The World Isn't in a Lehman Redux, BOJ Governor Kuroda Says
by and
China's growth rate won't crash and it has policy ammunition

2008 case was enabled by the dominant role of the dollar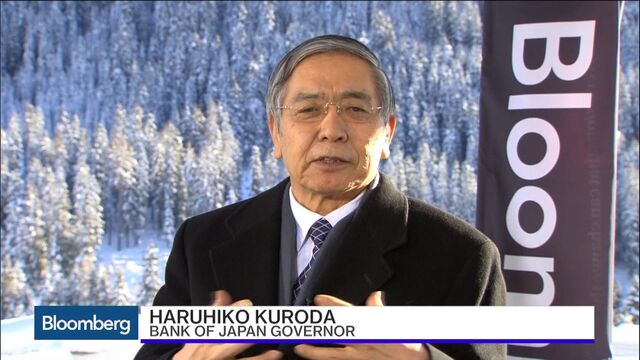 Bank of Japan Governor Haruhiko Kuroda rebuffed the concerns of some investors that the global financial system is heading for a crisis on the scale of the 2008 credit meltdown, and that China's growth rate will crash.
"Yes, global financial markets are in kind of a turmoil, but it's not like a situation immediately after the Lehman crisis," Kuroda said in an interview with Bloomberg in Davos, Switzerland, on Friday. "Even if China slows down a little bit and even if oil producers and developing countries, their growth rates slightly slow down, I don't think there is any sort of global financial crisis or global recession like the situation after the Lehman crisis."

In the case of 2008, the country with the largest economy and financial sector was the epicenter of the crisis, "and that affected the global economy through the dominant role of the dollar," said Kuroda, a former Finance Ministry official in charge of currency policy who took the helm of the BOJ three years ago.
Today, it's China, the world's second-largest economy, that has spurred sell-offs in stock markets around the world amid concern that its policy makers don't have a handle on the nation's slowdown, record capital outflows and pressures for the currency to depreciate.
'Huge' Scope
"The Chinese government has a huge policy space to deal with any kind of recession or anything like that so I am relatively optimistic about short-term prospects of the Chinese economy," Kuroda said. He said he doesn't think China is faced with the risk of a "hard landing."
Kuroda, 71, was speaking a week before a policy meeting as markets and poor economic data put pressure on the BOJ to expand an already-record stimulus program.
Despite Japanese stocks earlier this week falling into a bear market and inflation in the nation stuck near zero, Kuroda also maintained an upbeat outlook on the domestic economy.
"We don't think the current market situation has been affecting corporate behavior unduly," he said. "At this stage, corporate sector has a very strong investment plan and wages are rising."
While he repeated previous comments that the BOJ was ready to do more if needed, he also said that inflation -- excluding the impact of slumping energy costs -- was around 1 percent to 1.5 percent in Japan, Europe and the U.S.
"We always look at the exchange market, stock market, debt market but above all, the most important is the real economy," Kuroda said. "We are not so much concerned about the real economy."
Before it's here, it's on the Bloomberg Terminal.
LEARN MORE