Irish Rugby Star Gordon D'Arcy Swaps Pitch for Life in Finance
by
D'Arcy joins Investec as investment manager in Dublin office

Banker father reminded him to plan for life after rugby career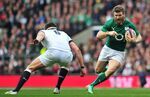 In some ways, Gordon D'Arcy is like any new finance employee: he forgets to book a room for a meeting and tugs occasionally at the collar and tie he is still not used to wearing.
There's one big difference: few other new hires have won more than 80 international rugby caps for Ireland and three Heineken Cups -- rugby's version of the European Cup for soccer. Now, just months after retiring as Ireland's longest-serving international player, the 35-year-old has joined Investec as an investment manager in Dublin.

The athlete's father, a Bank of Ireland Plc branch manager, "reminded me on a regular basis: 'rugby won't be there forever, you'll never make enough money to never work again,'" D'Arcy said at Investec's Dublin office this week. A top rugby player probably makes 275,000 euros ($300,000) a year while active, according to industry estimates.
Famous Footsteps
D'Arcy isn't the first Irish rugby play to pursue a career in finance and business. Hugo MacNeill, who played for Ireland in the 1980s, went on to work for Goldman Sachs Group Inc. Most famously, Anthony O'Reilly, who played for the British and Irish Lions, became chief executive officer of H.J. Heinz Co. in the 1970s, before building his own empire that eventually crumbled.
D'Arcy started building his exit plan for after the sport while he was still playing. Aside from investing in bars and a pilates studio, he studied economics at University College Dublin. He was doing some business with Investec and half-joked about having a chat with the company about his post-rugby career. That led to him going on to do an internship there.
That process was necessary, said D'Arcy. "Being a sports person who has represented your country might get your resume close to the top of the pile, but if you can't do the job, that's it."
D'Arcy's first step after the internship was taking a part-time role at Investec, working in various departments to see which fit him best. The company, which manages a total of about 115 billion pounds ($162 billion), bought stockbroker NCB in 2012 to expand in Ireland.
Rugby Chat
As he seeks to bring new business to Investec, at the back of his mind will be his network of former rugby players, who often have a cash windfall when the government pays some players a tax rebate at the end of their careers. His main role, though, will be use old connections and find new ones to bring clients in, and he's happy to talk rugby.
"I hope to be able to talk about markets and economy as competently as I talk about rugby but it all goes back to the client," said D'Arcy. "If the client wants to talk about rugby for 45 minutes, I'll talk about rugby for 45 minutes! The novelty is usually overtaken as soon as you start discussing their portfolio."
Before it's here, it's on the Bloomberg Terminal.
LEARN MORE