IMF Sees Venezuela Inflation Rocketing to 720 Percent in 2016
By
IMF's estimate is nearly quadruple Bloomberg median estimate

Spiking prices have driven popular discontent in Venezuela
Venezuela's consumer inflation, already the world's highest, will more than double this year to a level above all estimates from economists surveyed by Bloomberg, the International Monetary Fund said.
Inflation will surge to 720 percent in 2016 from 275 percent last year, according to a note published by the IMF's Western Hemisphere Director, Alejandro Werner. That's nearly quadruple the median 184 percent estimate from 12 economists surveyed by Bloomberg, and exceeding the highest forecast of 700 percent from Nomura Securities.
Spiking prices and widespread shortages for even staples have driven discontent in Venezuela. That helped spur the opposition to gain control of Congress for the first time in a decade as President Nicolas Maduro attempts to turn the tide of what he has deemed an "economic emergency."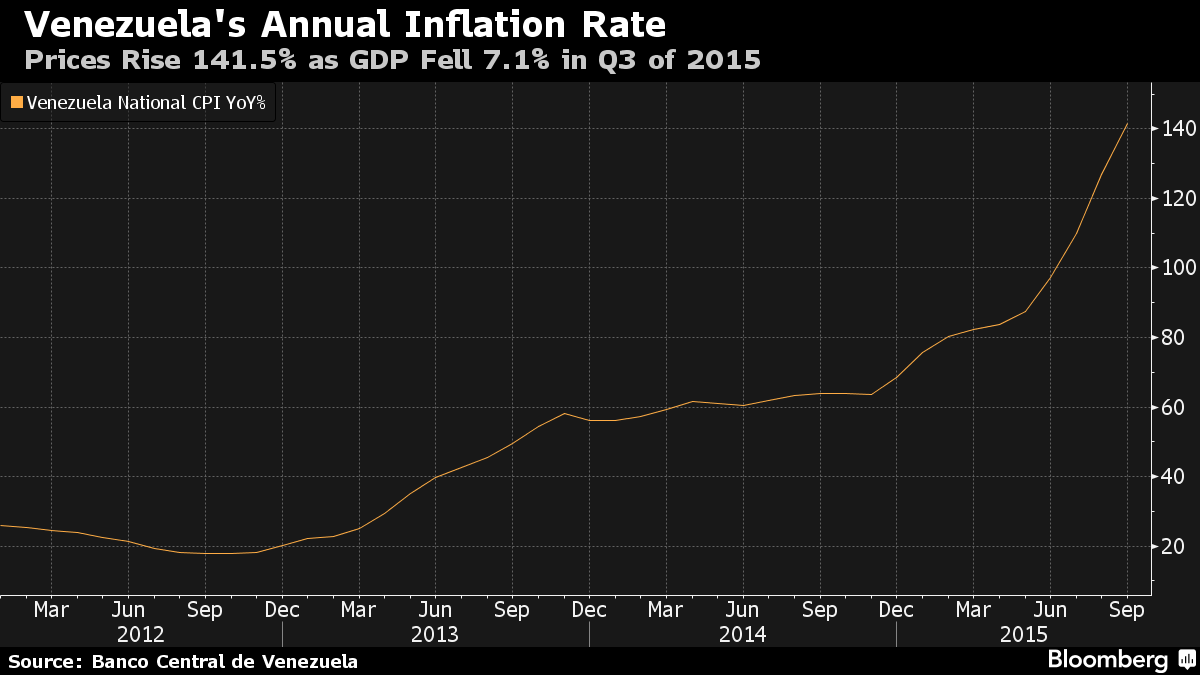 "A lack of hard currency has led to scarcity of intermediate goods and to widespread shortages of essential goods — including food — exacting a tragic toll," Werner said. "Prices continue to spiral out of control."
Venezuela's central bank published economic statistics Jan. 15 for the first time in a year, confirming that inflation had reached triple digits and closed the third quarter at 141.5 percent on an annual basis. As of December 2014, the last time data was released, inflation was 68.5 percent.
The monetary authority accused websites that track the dollar's street value of "destroying prices" and installing a "savage" form of capitalism in the country, adding that 60 percent of inflation was the result of currency manipulation.
Venezuela's economy will shrink 8 percent this year following a 10 percent contraction last year, according to the IMF. The forecasts are also more pessimistic than economists' median estimates for contractions of 4.1 percent and 8 percent this year and last.
Venezuela is one of four key countries along with Brazil, Ecuador and Argentina that will cause Latin America and the Caribbean as a whole to contract in 2016, according to Werner. Brazil will contract by 3.5 percent and Argentina will shrink 1 percent as its economy adjusts to policies adapted by the new government. The latter goes against the median forecast of economists surveyed by Bloomberg, who estimate Argentina to grow 0.2 percent this year.