Goldman Sachs to Award Blankfein $23 Million in Stock, Cash for 2015
by
2015 award is 4.2% lower than the CEO's total a year earlier

Total doesn't count long-term incentive compensation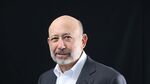 Goldman Sachs Group Inc. awarded Chief Executive Officer Lloyd C. Blankfein $23 million in salary and cash and stock bonuses for 2015, down 4.2 percent from a year earlier, after profit slumped and shares lagged behind peers. The total excludes a long-term incentive award, which is disclosed later in the year.
Blankfein, who also serves as chairman, received restricted shares valued at $14.7 million, half of it tied to future performance, the New York-based company said Friday in a filing. Blankfein, 61, typically receives about 30 percent of his total bonus in cash, making that portion about $6.3 million, a person with knowledge of the payout said, asking not to be identified because it hasn't been announced. He also receives a $2 million annual salary.

Blankfein was awarded $24 million in cash and stock for 2014, excluding $7 million in long-term incentive compensation. Blankfein's $31 million total award for the year was the highest since he set a Wall Street pay record of $68.5 million in 2007, his first full year as CEO. He took no bonus for 2008 after the financial crisis hit.
Goldman Sachs fell 7 percent last year in New York trading, compared with a 3.5 percent decline for the Standard & Poor's 500 Financials Index. Earnings tumbled 28 percent to $6.08 billion.
President Gary D. Cohn, 55, and Chief Financial Officer Harvey Schwartz, 51, each received restricted shares worth about $13.4 million, according to separate filings. The executives received $5.75 million in cash and a $1.85 million salary, taking their total to $21 million apiece, based on the filing and data provided by the person with knowledge of the awards.
Dimon's Pay
JPMorgan Chase & Co. boosted Jamie Dimon's pay 35 percent, tying most of the package to future performance after a record share of investors rejected the bank's compensation practices last year. The bank awarded Dimon, its CEO and chairman, $27 million for 2015, up from $20 million a year earlier, according to a regulatory filing Thursday. The package includes $20.5 million in performance share units, a new pay element tied to future targets. Dimon also got a $5 million cash bonus and a $1.5 million salary.
A year ago, Blankfein also got a $2 million salary, $14.67 million in shares, a cash bonus of more than $7 million and a $7 million long-term incentive awarded in April.
Before it's here, it's on the Bloomberg Terminal.
LEARN MORE