Goldman Sachs Makes U-Turn on Euro Forecast After Just Six Weeks
by and
Bank reinstates 95-cent call after move to $1 in December

Revision prompted by Draghi's signal for ECB stimulus in March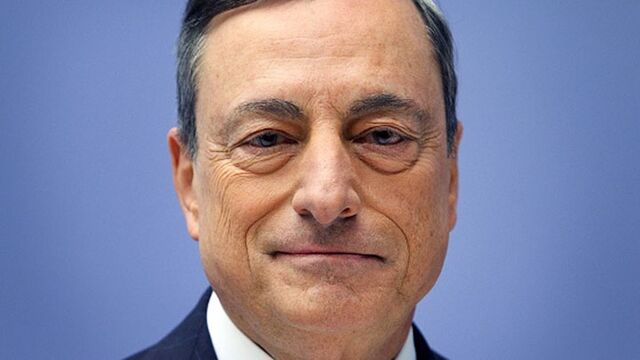 Goldman Sachs Group Inc. is revising its euro forecast for the second time in six weeks.
The New York-based bank revived its bearish call for the shared currency to drop to 95 U.S. cents in the next 12 months, analysts led by chief currency strategist Robin Brooks wrote in a note to clients Thursday. That decision comes less than two months after Brooks changed his 2016 year-end call for the euro to $1, when he said he "badly misread" the European Central Bank's December meeting.
The revised forecast "signals changing circumstances and a renewed opportunity," Brooks said via e-mail Thursday. "After today's ECB, we think downside is again compelling, in particular since the ECB so quickly signaled the possibility of renewed easing."

Goldman sees the euro falling to $1.04, $1 and 95 cents in three, six and 12 months, he wrote. That's a change from the bank's Dec. 7 call for the euro to decline to $1.07, $1.05 and $1 during the same periods, and similar to its previous prediction.
The median estimate of more than 60 analysts surveyed by Bloomberg forecast the common currency weakening about 3 percent to $1.05 by Dec. 31, 2016. The euro was at $1.0797 at 3:21 p.m. in New York.
ECB Credibility
European officials are weighing further monetary stimulus as they strive to raise inflation and economic growth amid a slowdown in China that's roiled international markets. Policy makers will "review and possibly reconsider" monetary policy when they next meet in March, ECB President Mario Draghi said Thursday after the central bank elected to keep its benchmark rates unchanged. 
A stimulus package that was less aggressive than investors anticipated in December sent the euro rallying -- and prompted Goldman Sachs to revise its forecast.
This time it's different.
"President Draghi is not letting himself be dissuaded from pursuing further accommodation," Brooks wrote in Thursday's note. "This, more than anything else, allays our fears over the ECB reaction function."
Before it's here, it's on the Bloomberg Terminal.
LEARN MORE