Everyone's Got a China Call as Markets Grapple With Who's Right
by and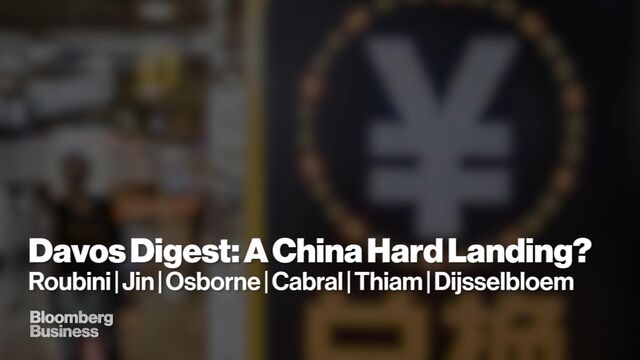 George Soros says China is headed for a hard landing. Templeton Global Advisors Ltd. says it's making a normal economic shift, while Goldman Sachs Group Inc. says investors are overstating the slowdown's impact on the world.

Who to believe? Traders are struggling to decide. The Shanghai Composite Index swung between gains and losses every day this week, while anxiety over China's prospects pushed U.S. stock volatility to an almost four-month high on Wednesday. The turbulence has gotten so extreme that China's vice president said the government is preparing increased regulation to limit swings.
Whether bears or optimists are right has turned into a $7.8 trillion question. That's the amount that's been wiped from global equities in 2016 after China sparked a selloff and helped send commodities tumbling, with oil dropping to the lowest in more than 12 years. It doesn't help that there's a lack of trust in the nation's economic data and a dearth of communication about policy decisions.
"It's confusing," Andrew Clarke, Hong Kong-based director of trading at Mirabaud Asia Ltd., said by phone. "There are lots of conflicting views. I'm of the opinion that China will have a soft landing but I wouldn't be jumping into the stock market right now. The volatility is too much."

For the billionaire investor Soros, the hard landing he sees will worsen global deflationary pressures, send equities lower and boost U.S. government bonds. He's been betting against U.S. shares, commodity-producing countries and Asian currencies, he said in an interview from the World Economic Forum in Davos on Thursday.
Soros, who broke the Bank of England in 1992 and netted $1 billion with a bet that the U.K. would devalue the pound, said a more accurate measure of China's current economic growth is 3.5 percent, versus the latest official figures showing a 6.8 percent quarterly expansion. The country's unsustainable debt burden and capital flight are both ominous signals, he said.
"A hard landing is practically unavoidable," he said. "I'm not expecting it, I'm observing it."
Even Laszlo Birinyi, whose bullish market predictions over the last seven years have virtually all come true, is getting worried. The 72-year-old investor is the most concerned since 2009, partly because understanding what's going on in China's economy and markets defies fundamental analysis, he wrote in a note Wednesday. Getting a handle on the situation "requires insight into that government's political agenda which is beyond our capacity," he wrote.
More Intervention
China is willing to keep intervening in the stock market to ensure a few speculators don't benefit at the expense of regular investors, the nation's Vice President Li Yuanchao said in an interview on Thursday. Policy makers have tried everything from a crackdown on short-sellers to introducing -- and then scrapping -- circuit-breakers as they sought to quell volatility. The Chinese equities watchdog this month acknowledged loopholes and ineptitude within its regulatory system after a review of the turmoil that's seen the Shanghai Composite Index slump 44 percent from its June peak.
Heather Arnold, who manages $42 billion for Templeton while also serving as its director of research, is much more optimistic. China's slower expansion as it shifts to a services-oriented economy is a normal transition, she said on a visit to Tokyo this week. The country's debt level, while high, is offset by a high savings rate, and fears that China's weakening of the yuan is an act of competitive devaluation are off the mark, she said.
Overexcited Investors
Not only that, the volatility in Chinese shares doesn't even say much about that country's economy, she says. For her, it's just local investors getting overexcited in an immature market.
"The depth of pessimism that's out there seems unwarranted," Arnold said. This is "ultimately for us a good thing."
For Goldman Sachs, it's the way investors view China that's the biggest problem. Asset managers will keep overstating the impact of a slower expansion on the rest of the world, and that's going to spread volatility through markets for the next five years, a team led by Sharmin Mossavar-Rahmani, chief investment officer at Goldman Sachs Private Wealth Management, wrote in a paper.
Mirabaud's Clarke recommends staying on the sidelines in China, because the situation is just too difficult to read.
"There are a few uncertainties," he said. Until they go away, "it's probably best to be an observer rather than a player in this market."
Before it's here, it's on the Bloomberg Terminal.
LEARN MORE