Esteves Is Out of Jail, BTG's Up 24% and Traders Want Much More
by and
Two months after the arrest, investors still cautious on bank

Shares stabalizing at about 15 reais with bonds at 70 cents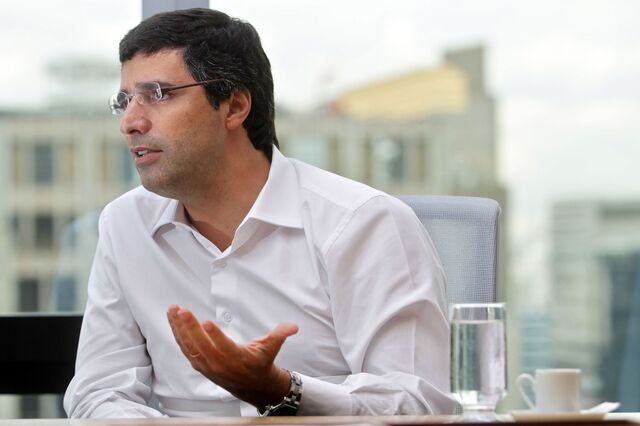 As quickly as the crisis and volatility erupted at Brazil's Banco BTG Pactual SA, they have faded. No longer do daily swings in the bank's stock regularly surpass 10 percent. On a typical day this month, the move has been more like 3 percent.
Amid this new calm, the stock has climbed 24 percent from a record low in December. The reasons for the rebound are clear enough: The release from jail of BTG's billionaire founder, Andre Esteves, eased concern about how much Brazil's graft scandal will drag down the bank (it was his November arrest that had sparked the rout); and executives cobbled together enough financing to avoid a fire sale of their best assets and, just as importantly, to spend some cash propping up BTG's stock and bond prices.
So now what? While all of those factors are enough to bring a new-found stability to the bank, they aren't enough to trigger a sustained rebound in the stock price, according to investors and analysts. For that to happen, they say the bank would need to finish its asset sales soon -- and fetch reasonable prices for them -- as well as release full fourth-quarter results to help outsiders assess the extent of the damage.
Short of that, or alternatively of a new development that throws the bank back into crisis mode, this is the new normal for BTG: a price of around 15 reais per share and a valuation that's about a third of its peak in 2013, when it was a high-flying firm muscling business away from the Wall Street banks that traditionally dominated investment banking in Brazil and the rest of Latin America.
"Their only chance of bouncing back is showing that they will be able to sell their assets," said Max Bohm, an analyst at equity-advisory firm Empiricus Research in Sao Paulo. "There are many not-so-good ones left on the shelf. After that, they can probably focus on what they are really good at, their fund management business."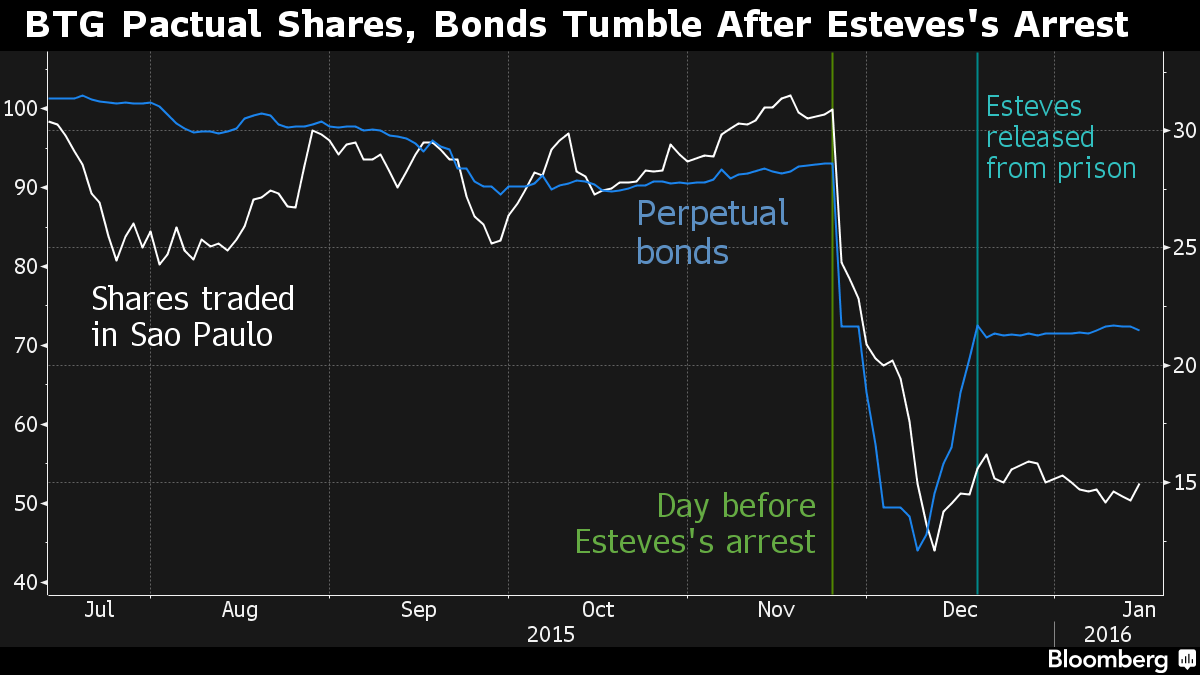 In the weeks following Esteves's arrest, BTG raised 2.38 billion reais ($573 million) selling its stake in hospital chain Rede D'Or Sao Luiz SA to Singapore's sovereign-wealth fund. It also agreed to sell its distressed asset-management firm to Itau Unibanco Holding SA for 640 million reais. The lender is in talks to sell its Swiss bank BSI and its parking-lot company, known as Estapar, people with knowledge of the efforts have said.
"The trust in the founder and CEO, as well as BTG as an institution, has been damaged and that needs to be restored before investors consider returning," said Patrik Kauffmann, who helps manage $11 billion of assets at Solitaire Aquila Ltd. in Zurich, including BTG bonds. "It is not easy to assess the current situation and I don't like to take blind investment decisions."
In what the bank said was a bid to provide transparency, BTG this week released preliminary earnings for the first time in its history. They showed unaudited profit rose 45 percent in the fourth quarter from a year earlier as sales increased along with trading revenue. Assets under management fell to 192.5 billion reais from 230.5 billion reais in the previous quarter.
Persio Arida, chairman of the Sao Paulo-based firm, said in an interview at the World Economic Forum in Davos that the bank plans to retain key businesses that are among its most profitable: commodities, asset and wealth management, investment banking, sales and trading, and brokerage. The principal-investments operation, which includes proprietary trading, private equity and real estate, is less critical, Arida said.
"We're deleveraging the bank, and confidence naturally takes some time to come back," Arida said. "The situation has stabilized, but we want to be in a very comfortable position as it takes some time to recover the confidence levels counterparties previously had."
BTG has helped support its share price by buying back the stock, which rose 1.8 percent to 15.27 reais at 3:07 p.m. in Sao Paulo on Friday. Between Esteves's jailing Nov. 25 and Dec. 30, the firm purchased at least 565 million reais of shares, equal to 14 percent of the free float before the arrest. Marcelo Kalim, who was named co-chief executive officer after Esteves stepped down, said on a conference call Tuesday that BTG will continue with the buybacks and called them a "very good use" of capital.
BTG also bought back an undisclosed amount of its perpetual bonds in the span, according to its earnings statement. The $1.3 billion of notes have surged 75 percent since bottoming out Dec. 9, stabilizing near 70 cents on the dollar. They traded at about 92 cents before the arrest.
BTG's press office declined to comment on the performance of its shares and bonds.
Esteves was sent to prison on charges of obstruction of justice in the so-called Carwash probe, a kickback scheme involving state-run oil producer Petroleo Brasileiro SA. He stepped down from his position as CEO and gave up his controlling stake in the company. The billionaire, who has denied any wrongdoing, was released from jail Dec. 17 and has since been on home arrest. BTG has said the bank itself isn't being investigated.
"Maybe in a few years the firm will be able to rebuild itself, but for now I'm staying out of it," said Joao Pedro Brugger, a money manager at Leme Investimentos, which oversees about 500 million reais in assets. "There's probably a lot of things the public still doesn't know about this case, and in the short term I don't see a rebound."
Before it's here, it's on the Bloomberg Terminal.
LEARN MORE