Emerging Stocks Rally From Six-Year Low as Ruble Rebounds on Oil
by and
Crude extends price increase after U.S. inventory data

Energy companies lead advance among developing industry groups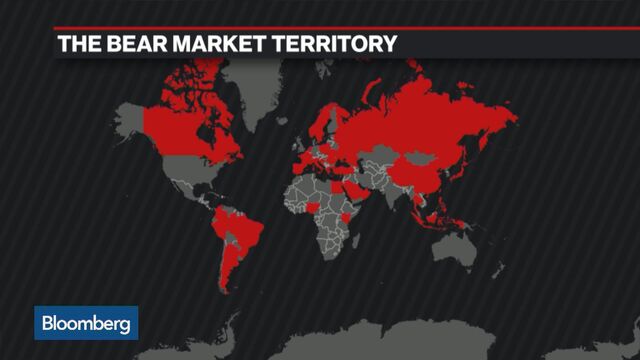 Emerging-market stocks climbed the most since August, erasing this week's decline, as oil gained and speculation that central banks will expand stimulus spurred a revival of risk appetite. Russia's ruble rebounded from an all-time low.
Energy companies paced gains in the MSCI Emerging Markets Index as Brent crude rallied 9.7 percent to cross $32 a barrel. Chinese stocks trading in Hong Kong advanced from a six-year low as PetroChina Co. and China Shenhua Energy Co. surged and the government signaled it will curb overcapacity in industries such as coal. The ruble strengthened the most December 2014 as UBS Wealth Management predicted a rebound in this year's worst-performing currency in the developing world.

Global policy makers are being pushed to act to counter the fallout from slumping commodities and China's deepest economic slowdown since 1990 that's roiled global markets. European Central Bank chief Mario Draghi indicated he may bolster economic support as soon as March, while Malaysia cut the amount of cash banks must set aside as reserves for the first time since 2009. Developing-nation stocks have had their worst start to a year since 2008 with $2.5 trillion has been shaved off from the value of equities in 2016.
"We could find a trigger in yesterday's statements by the ECB that changed the mood quite dramatically among international investors, which led to a clear risk-on sentiment," said Alejo Czerwonko, a New York-based emerging markets strategist at UBS Wealth Management. "It's a reversal from the starting risk off vault that's dominated the better part of the year so far."
The MSCI Emerging Markets Index climbed 3.2 percent to 710.66. The gauge closed at the lowest since May 2009 on Thursday, sending valuations to the cheapest since March 2014. The 14-day relative strength index closed below 30 for a 12th day on Thursday, before climbing to 35 on Friday.
Developing-nation stocks trade at an average 10.4 times projected 12-month earnings, an about 30 percent discount to advanced-country shares in the MSCI World Index, according to data compiled by Bloomberg.
Bonds also rebounded, with the premium investors demand to hold emerging-market debt over U.S. Treasuries narrowing 13 basis points to 466, according to JPMorgan Chase & Co. Indexes.
Stocks
PetroChina and China Shenhua, the biggest Chinese oil and coal producers, surged more than 7 percent in Hong Kong. Premier Li Keqiang called for supply-side policy changes and cutting overcapacity in the steel and coal industries, while the Economic Information Daily reported the government will provide 100 billion yuan ($15 billion) a year to help reduce capacity in those sectors.
The Hang Seng China Enterprises Index of mainland shares traded in Hong Kong rallied 3.4 percent, paring a fourth weekly loss. The Shanghai Composite Index added 1.3 percent. Brazilian stocks climbed 1.2 percent, trimming a fourth weekly decline.
Stock indexes across emerging Europe rallied. Polish bank MBank SA gained the most since 2013, leading a 2.6 percent rally in the nation's equity gauge. Czech, Hungarian and Turkish stocks climbed more than 1.9 percent and Russia's Micex Index closed at the highest since Jan. 6.
Currencies
A Bloomberg gauge of emerging-market currencies climbed 1 percent to wipe out this week's losses. The index is still trading near a record low. The ruble led the advance, climbing 5.9 percent to 78.024 per dollar after reaching an all-time low 85.999 yesterday.
Jorge Mariscal, the emerging-markets chief investment officer at UBS Wealth Management, which oversees $1 trillion, predicted on Thursday that the Russian currency will strengthen to 73 per dollar in the next three months.
The ringgit rallied by the most since October, while the South Korean won jumped more than 1.1 percent. Brazil's real climbed for the first time in four days, while the zloty jumped the most in more than a month against the euro following a policy maker remarks about the "notably undervalued" Polish currency. The offshore yuan completed a second weekly advance after Chinese authorities stepped up their defense of the currency amid capital outflows and a slowing economy.
Bonds
Malaysia's 10-year government bond yield dropped to an six-month low as Bank Negara lowered the amount of cash banks must set aside as reserves and opted to keep the benchmark overnight policy rate unchanged to save undermining the ringgit.
Russian 10-year local-currency bonds almost erased their loss this week, lowering the yield 30 basis points to 10.56 percent.
Before it's here, it's on the Bloomberg Terminal.
LEARN MORE