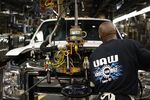 Global markets are in turmoil. In this environment, nothing is guaranteed or safe — not even the great American jobs machine.
One looming threat to the labor market is that profits for companies in the Standard & Poor's 500 Index are forecast to fall for a third consecutive quarter. What's more worrisome, corporate margins are getting squeezed. That means it will get tougher for employers to keep adding workers at the strong pace seen recently or hand out much-awaited salary hikes.

"It's likely to restrain hiring and wages, because both these are costs," said Joseph LaVorgna, chief U.S. economist at Deutsche Bank Securities Inc. "The only way corporations can restore margins is to cut costs, or if the economy accelerates more than expected and we reverse the downshift in margins."
LaVorgna calculates that corporate profits per private worker, a proxy for margins, passed their peak in this expansion and are falling. They dropped to $17,045 in the third quarter of 2015, from $18,390 in the same period of 2014, he said. This happened because earnings are sliding, and the fourth-quarter reporting season that's under way may bring more bad news. Companies from Intel Corp. to Goldman Sachs Group Inc. and Johnson & Johnson had a weak showing, and some are considering job cuts.
A pickup in per-worker profits is "theoretically possible, but probably unlikely at this stage of the cycle," LaVorgna said. "Typically, margins peak and then continue to slow down until the next cycle."
The employment situation looks more promising to Neil Dutta, head of U.S. economics at Renaissance Macro Research LLC. Demand from consumers and businesses was "solid over the last few quarters," he said. So while payrolls gains will ease to a more sustainable pace from the 284,000 average of the past three months, "you don't go from 200,000 to 50,000 a month."
Productivity is also extremely weak, which argues in favor of more hiring. Firms — having wrung out efficiency gains from existing workers — will need to take on new employees to cater to any pickup in sales.
So far, resilient demand has helped the labor market post its best back-to-back years since 1998-99.
"The job market is holding up its end of the economy," LaVorgna agreed. "The trouble is, that doesn't tell you the job market will continue to do reasonably well." After all, "a lot could go wrong between now and the end of the year."
Conversely, a lot could turn out alright.
Before it's here, it's on the Bloomberg Terminal.
LEARN MORE