Cocoa Volatility Jumps as Investors Mull `Precarious Balance'
By
West African crops face dry weather amid dwindling demand

Open interest, trading in futures surge as price fluctuates
Volatility in the cocoa-futures market is soaring as investors weigh signs of dwindling global demand for chocolate against concerns that adverse weather will hurt crops in West Africa, the world's top producing region.
A measure of 60-day price volatility on Thursday climbed to a 13-month high. Cocoa has dropped 16 percent from a four-year high of $3,429 a metric ton on Dec. 7 on indications that pricey beans curbed demand. On Wednesday, aggregate trading volumes for both futures and options rose to records.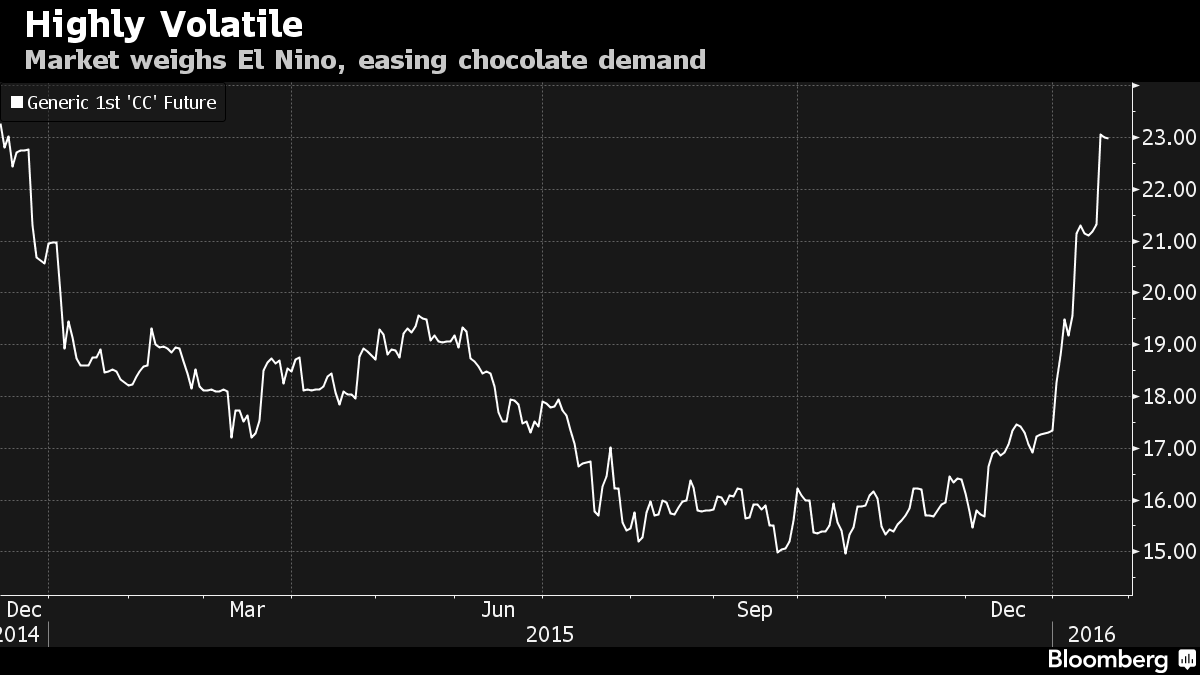 "Prices moved to the upside so fast, not based on fundamentals, but on speculation as to what the weather would do" in Ivory Coast and Ghana, Bill Pearce, an independent analyst in Naperville, Illinois, said Friday in a telephone interview. "This market is so precariously balanced between supply and demand, and that tends to drive the volatility higher."
El Nino continues to threaten West African crops, dividing the market on supply expectations. This month, prices have dropped 11 percent, allowing chocolate makers to boost purchases, Pearce said. In 2015, cocoa rose 10 percent to advance for the fourth straight year.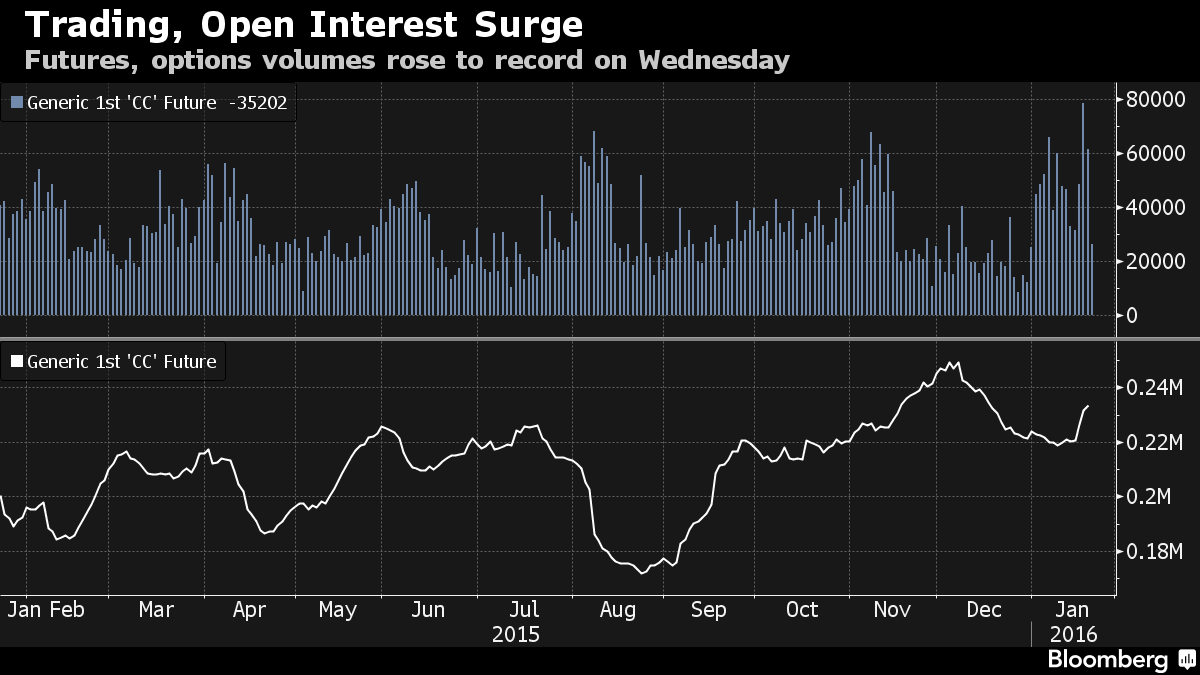 In Ivory Coast, the top producer, "drier weather in the coming days will maintain fairly widespread stress" on crops, MDA Weather Services in Gaithersburg, Maryland, said Friday in a report. Ghana's growing region on average got less than 5 millimeters (0.2 inch) of rain since Dec. 3, compared with normal amount of 50 millimeters, Speedwell Weather in Charleston, South Caroline, said in a report.
Cocoa processing in the fourth quarter fell more than analysts estimated in North America, while the so-called grind topped forecasts in Europe and Asia.
The grinding numbers from North America were "absolutely terrible," especially after the positive European data, Hector Galvan, a senior broker at RJO Futures in Chicago, said in an e-mail. "The hot dry weather is again stressing the growing environment and generating fear that the mid-crop will suffer."
On Friday, cocoa for March delivery rose 0.6 percent to settle at $2,872 a ton on ICE Futures U.S. Aggregate trading was 49 percent above the 100-day average, according to data compiled by Bloomberg.
Open interest was an estimated 233,344 contracts. That compared with 249,253 on Dec. 7, the highest since at least 1995.
On Wednesday, the price tumbled 4.2 percent, the most in three years. On that day, futures trading rose to a record 87,195 contracts and options volumes were an all-time high 29,211.