China's Promise Has Renault, Cisco Seeing Beyond Plunging Market
by , , and
Renault sees `pure opportunity' in China, CEO says at Davos

Soros, other investors see slowing growth hurting markets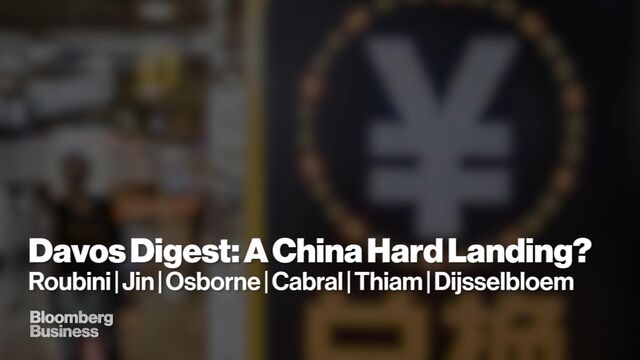 China may be in turmoil, with the stock market plummeting and the economy growing at the slowest pace in a quarter century.
But for Carlos Ghosn, the country is still "pure opportunity."
Ghosn, the chief executive officer of French automaker Renault SA, echoed other corporate executives at the World Economic Forum in his optimism about prospects for China. Cisco Systems Inc.'s Chuck Robbins says his company will be there "for the long haul." Ton Buechnerof paint maker Akzo Nobel NV proclaimed his "strong faith" in the market.
Corporate executives at Davos, many of whose companies have made big bets on the world's second-largest economy, see buoyant sales of consumer goods fueled by a growing Chinese middle class. Investors at the conference, by contrast, forecast more economic gloom and continued buffeting of financial markets this year.

Billionaire investor George Soros predicts a slump that will worsen global deflationary pressures, drag down stocks and boost U.S. government bonds. Goldman Sachs Group Inc. President Gary Cohn says China probably will have to devalue its currency to address deteriorating growth.
Renault foresees 5 percent sales growth in China this year, and will begin building cars in the country next month.
"For Renault it's pure opportunity, because for the moment we're just importing cars in China, which is a very small part of our potential," Ghosn said in an interview Friday in Davos, Switzerland. "I recognize the fact that China is not growing at the base that it used to grow, but this is part of the normalization of China."
Important Country
China will remain one of the most important countries for Akzo Nobel, said Buechner. The country accounts for more than 12 percent of the Amsterdam-based paints and chemicals manufacturer's annual revenue, which was probably just short of 15 billion euros ($16.3 billion) in 2015, according to data compiled by Bloomberg.
"China will be one of the top three, four countries for Akzo Nobel for a very long time," he said in an interview on Thursday. "I have strong faith in the way China moves forward."
Chinese Vice President Li Yuanchao, who is also a member of the Communist Party's Politburo, came to Davos this week with a message: The country's economic overhaul is taking hold and will continue to contribute to global economic growth. The government has no intention and no policy to devalue, he said in a Bloomberg interview Thursday.
The Chinese government is making the moves it needs to make, said Cisco's Robbins. "It's a huge economy," he said in an interview. "We're staying in for the long haul."
Before it's here, it's on the Bloomberg Terminal.
LEARN MORE