These Charts Show 'It Was a Wild Week on the Markets'
By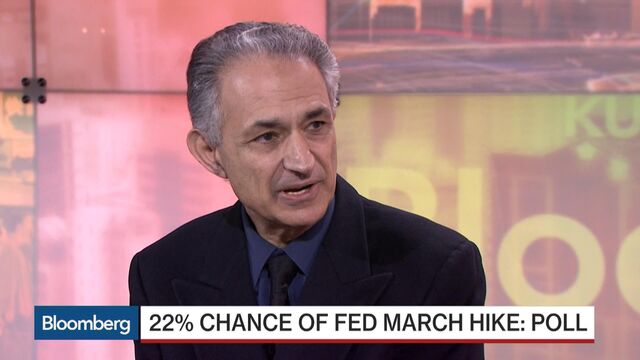 Fear and then relief gripped the markets this week, testing investors' nerves. The problems were not particularly new -- concerns about a China-led global slowdown, collapsing oil prices and the end of Federal Reserve support had been rattling traders for months, leading to a plunge in equities back in August. The same issues reached a crescendo again by Wednesday before a rebound on central-bank optimism.
Here's a breakdown:

The slower pace of growth in China's economy puts into question the outlook for demand from the world's biggest consumer of commodities. A supply glut that torpedoed the price of oil made things worse, wreaking havoc on markets and especially the metals, mining and energy industries. Global stocks in the MSCI All-Country World Index mirrored the collapse.

Volatility also jumped, a sign market jitters were entrenched across the board among all asset classes. A relief rally eased concerns later in the week, with the VIX (dark blue line in chart above), also dubbed the fear index, falling from a September high. 

Things started looking better by Thursday, when European Central Bank President Mario Draghi floated the prospect of more economic stimulus as early as March. Investors cheered the comments, sending the Stoxx Europe 600 Index to its biggest two-day surge since 2011.

Despite the rough week, stock strategists are sticking to their guns. Even with waning market support from the Fed, forecasters expect the Standard & Poor's 500 Index to extend its rebound from the Wednesday low to 19 percent by December. European strategists see the region's benchmark finishing 2016 about 18 percent higher than today's close.