Cameron Looks at EU Alternatives to Migrant Benefit Freeze
By and
Prime minister says he's open to ideas after Prague meeting

Czech premier floats idea of `emergency brake' on migration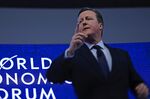 Prime Minister David Cameron said he and his Czech counterpart Bohuslav Sobotka discussed alternative ways to dissuade large numbers of European Union citizens from moving to Britain as part of the U.K.'s renegotiation of its membership of the bloc.
Cameron has proposed stopping non-Britons from claiming in-work welfare payments for four years, something that other leaders have said might infringe EU free-movement rules. Speaking after talks in Prague on Friday, the prime minister said he's open to other ideas.

"There are a number of options that different countries, the European Commission and European Council are putting forward," Cameron said at a joint news conference with Sobotka. "If people can find other ways of achieving a similarly powerful effect to address the problem the British have put on the table, I'm very happy for those options to be discussed."
On Saturday, it will be three years since Cameron announced his plan for a referendum on EU membership. He is aiming to complete his renegotiation at the next EU summit in February and then put the results to the British people as soon as June. The choreography is complex, requiring him to be seen to be negotiating hard and also to achieve everything he is asking for.
Sobotka suggested an "emergency brake" that would allow countries to restrict migration rules if they felt levels were too high. "It's important for us that any solution the U.K. comes up with won't be discriminatory," the Czech premier said. "It must not affect the free movement of workers in Europe."
Caine, Howard
Earlier on Friday, the iconic movie actor Michael Caine said he was inclined to vote to leave the EU, and Cameron's predecessor as Conservative Party leader, Michael Howard, said he had "a lot of sympathy" with that view and that he wasn't sure the prime minister would achieve genuine reform.
Polling on the referendum has been inconclusive. While telephone surveys have shown double-digit leads for staying in, the latest online poll published Friday by ICM showed a much closer result: 42 percent in favor of remaining in the EU and 40 percent for leaving.
Before it's here, it's on the Bloomberg Terminal.
LEARN MORE