Bystander No More: Central Banker Jumps in Fray After Ruble Rout
by and
Governor says Bank of Russia has tools to act `proactively'

Ruble gains most in emerging markets after record depreciation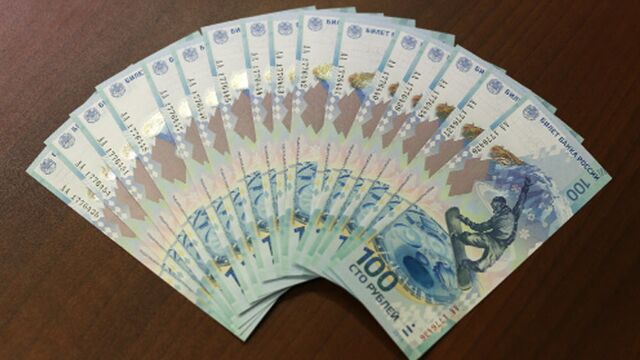 A roller-coaster week for the ruble may be making Bank of Russia Governor Elvira Nabiullina a believer in the power of words.
After largely sitting out the currency's lurch to a record low in the past two days, Nabiullina signaled the central bank wants to get ahead of market pressure and rein in ruble volatility. Listed by Commerzbank AG alongside Brazil among "bystander" central banks in emerging markets, the Bank of Russia sprang into action with a verbal intervention that helped reverse a historical fall in the ruble that took it down as much as 5.3 percent to 85.999 against the dollar on Thursday.
"It is a strong verbal intervention that I've been waiting for since the ruble's selloff gathered momentum," said Piotr Matys, a strategist for emerging-market currencies at Rabobank in London. Earlier, when she spoke on Wednesday, "Nabiullina downplayed concerns about the weaker ruble."
As appeals for central bankers to take action sounded at this week's annual meeting of the international elite in Davos, Nabiullina helped the ruble to the biggest surge in emerging markets on Friday as the currency rode a comeback in oil prices. Global stocks also rallied on speculation that central banks will expand stimulus measures.
'Fundamental Levels'
Nabiullina, who surprised investors a year ago with an emergency 6.5 percentage-point interest-rate increase at the height of a currency rout, unsettled the market two days ago by saying the ruble is trading close to its "fundamental levels. " Interventions weren't required unless risks to financial stability arose, she said, adding that she saw no such threat.
On Friday, after canceling a visit to the World Economic Forum in Switzerland, she said the Bank of Russia has the tools to act "proactively" and wants to avoid bigger fluctuations in the exchange rate.
"The Bank of Russia is vigilantly monitoring the market situation," Nabiullina said at a Finance Ministry meeting in Moscow. "We don't want to allow an excessive rise that wouldn't be based on fundamentals but on factors related to the currency-liquidity situation and other disturbances in the market."
Hike Ahead?
The ruble strengthened the most since Aug. 27, climbing 4.2 percent to 79.28 against the dollar. Forward-rate agreements are signaling a 20 basis-point rate increase in the next three months, compared with 20 basis points of cuts last week, according to data compiled by Bloomberg.
"If the ruble market doesn't stabilize enough, the central bank will easily hike as markets are already pricing it in," Vladimir Miklashevsky, a strategist at Danske Bank A/S in Helsinki, said by e-mail. "Yet the central bank and the government may further push big exporters to sell more and more currency in order to mitigate the ruble's weakening."
President Vladimir Putin isn't planning extraordinary meetings on the economy, Kremlin spokesman Dmitry Peskov said earlier on Friday.
Emergency Toolkit
The Russian central bank hasn't sold foreign exchange since late 2014 after shifting to a free-float regime. The ruble would need to weaken to 90 against the dollar for policy makers to step in, according to a survey of economists polled by Bloomberg earlier this week. Currency sales in support of the ruble were the likeliest course of response for the central bank, followed by verbal interventions and an emergency interest-rate increase, the economists said.
One-month swings in the ruble have made it the most volatile currency in developing nations after oil prices sank to a 12-year low. The ruble has been pummeled more than any emerging-market currency this year as an oil supply glut and concern about the economic slowdown in China drove crude prices down 17 percent. The Finance Ministry is weighing budget cuts and the government is due to announce a revamped anti-crisis plan next week as Russia's recession drags on. Almost 50 percent of the nation's revenue comes from oil and gas.
"We will see or sometimes just feel intensified monetary fine-tuning in the next weeks," said Wolf-Fabian Hungerland, an economist at Berenberg Bank in Hamburg, Germany. "The ongoing transition to a full-blown free-floating resource economy is also a monetary trial-and-error game."
Before it's here, it's on the Bloomberg Terminal.
LEARN MORE