business
Argentina Eyes $20 Billion in Investment in 2016, Macri Says
By and
Shale, renewable energy, infrastructure and agro are promising

Argentina wants a deal with holdout creditors `now': Macri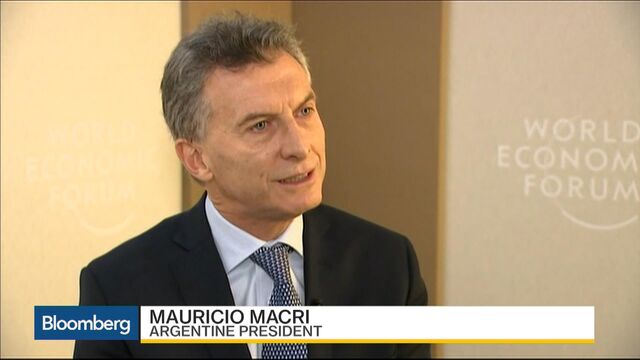 Argentine President Mauricio Macri swept through the halls of Davos claiming a potential windfall of $20 billion in foreign investment this year from energy to infrastructure as he tries to persuade global investors that this time is different for Latin America's third-largest economy.
"Argentina has decided to take its place in the global landscape," Macri said in an interview with Bloomberg News on Friday at the World Economic Forum in Davos, Switzerland. "We need important companies of the world to finance and construct roads, ports, waterways, energy, trains. We're a huge country that only depends on trucks today. It's impossible."

The 56-year-old president, who took office Dec. 10 after running the city of Buenos Aires for eight years, has already won an investment pledge of $1 billion from Coca-Cola Co., and "hundreds of millions of dollars each" from Total SA, Royal Dutch Shell Plc, and Dow Chemical Co. while at Davos, he told Bloomberg Thursday in a separate interview. Today, he added BP Plc to the list, saying they promised to invest in the Vaca Muerta formation, part of the world's second-largest shale gas reserves. The investments come after Macri lifted capital controls that for several years limited the repatriation of dividends for the companies -- all of which currently operate in Argentina.
In his first month in office, Macri devalued the peso, lifted most capital and trade restrictions, started to overhaul the statistics agency and kicked-off talks with disgruntled creditors from the nation's 2001 default. The government wants an agreement with holdout creditors "now," and will resume talks Feb. 1 with the goal of reaching a solution to unlock even more investment potential, he said.
"We'll go on the 1st with all our will to find a settlement with the courts for a realistic, reasonable settlement with the holdouts," Macri said. "They have something in which they have the right to claim. We don't accept the level of penalties the judge has decided but we want to discuss that. We want to finish all our conflicts of the past."
'Best Alternatives'
The meeting with holders of defaulted debt from 2001, led by billionaire Paul Singer's Elliott Management, will be the second since the new administration took office. Ongoing litigation with the creditors has prevented the nation from tapping overseas bond markets for 15 years, and even triggered a second default on international debt in 2014.
Potential foreign investment to flow into the country once the litigation is resolved will be "huge," said Macri. "Argentina is maybe one of the best alternatives in the next 10 years for investors."
Macri is diverging from his predecessor Cristina Fernandez de Kirchner, whose policies were shunned by foreign investors and whose rhetoric against the holdouts turned the stand-off into an issue of national pride, dubbing them "vultures." Macri, who hasn't run into Singer in Davos, said name calling "doesn't help."

Argentina's foreign reserves, which have rebounded from a nine-year low since Macri lifted currency controls to $25.4 billion, will jump further with a loan from a group of banks that should arrive next week, Macri said. The loan, which would be backed by dollar bonds held by the central bank, will be for between $4 billion and $6 billion, according to Finance Minister Alfonso Prat-Gay.
In addition, Prat-Gay said this week that Argentina is willing to allow the International Monetary Fund to conduct an Article IV review of the economy for the first time since 2006 and the U.S. Treasury Department said Thursday that it will end its opposition to loans for Argentina from multilateral development banks due to the steps being taken by the new administration.
Prat-Gay met IMF Director Christine Lagarde Friday in Davos along with Central Bank President Federico Sturzenegger, the finance minister said at a press conference. Argentina will publish previous reports that weren't made public ahead of an eventual Article IV, he said.
"We want to publish the reports so that everything is transparent," Prat-Gay said. "The next report will be complying with the Article IV."
Obama Visit
Ideological differences won't prevent Argentina from pursuing its development plans and improving relations both with political adversaries at home and bilateral partners abroad, Macri said. The fiscal deficit inherited from the previous government of more than 7 percent of gross domestic product, will be narrowed progressively as the government seeks to slow annual inflation to a single-digit from an estimated 27 percent in 2015.
Among the meetings in Davos which included top executives at Facebook Inc., Alphabet Inc., Microsoft Corp. and Louis Dreyfus Holding BV, the Argentine leader met with U.S. Vice President Joseph Biden and discussed ways to improve relations including a potential visit from President Barack Obama this year, according to Macri.
Macri, who previously ran one of the country's most successful soccer clubs, Boca Juniors, said that he'll work with the next U.S. president whoever it is. The Argentine president said that Donald Trump, who he met when he was 24 years old as part of negotiations when he was working for his father in New York, is a "very particular guy."
"He was a tough negotiator," Macri said. "Some of his proposals are a bit extreme in my view but it's part of the democratic debate."
— With assistance by Carolina Millan
(
Updates with IMF meeting in 11th paragraph.
)
Before it's here, it's on the Bloomberg Terminal.
LEARN MORE