Treasuries Decline as Yields at October Lows Prove Unattractive
by
Bonds fall as crude-oil price surges and global stocks rally

S&P 500 yield rose to 39 basis points more than Treasuries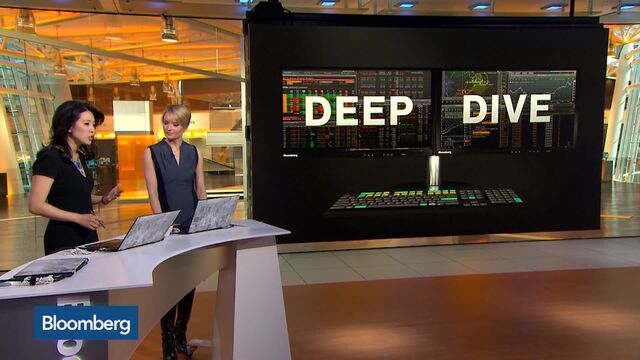 Benchmark 10-year Treasury notes made two consecutive decline for the first time this year, as rebounding stocks and oil prices curbed demand for haven assets.
Yields climbed as U.S. equities added to a global rally and Brent crude oil jumped more than 8 percent. U.S. debt has slipped from its Wednesday high, when a selloff in risky assets sent the 10-year yield to the lowest since October. It dropped as low as 1.94 percent this week, versus the record of 1.379 percent set in 2012, as investors sought safety in bonds amid a global stocks rout.

"The market had overreacted to some degree," said Thomas Roth, senior Treasury trader at Mitsubishi UFJ Securities USA Inc. adding that investors had been holding back from taking risk as markets swing. "People are a little disillusioned with the volatility. We've seen people moving around on the curve for relative value, but there aren't a lot of outright trades."
The benchmark 10-year note yield rose two basis points, or 0.02 percentage point, to 2.05 percent at 5 p.m. in New York, based on Bloomberg Bond Trader data. The price of the 2.25 percent security due in November 2025 fell 6/32, or $1.88 per $1,000 face amount, to 101 24/32.
The dividend yield on the Standard & Poor's 500 Index is about 26 basis points more than Treasuries, after climbing this week to as much as 39 basis points, the widest spread since May 2013.
Weekly Returns
Treasuries declined for the first time in three weeks while the Bloomberg U.S. Treasury Bond Index, which includes interest payments, earned 0.1 percent this week through Thursday. That compares with a 1.5 percent return in the first two weeks of January, when investors sought fixed-income assets as a haven and reduced expectations of further rate increases by the Federal Reserve. The central bank boosted rates in December for the first time in almost a decade.
"The Fed probably made a mistake in December because since then three things have happened: growth has disappointed, inflation is going to be lower rather than higher because of commodity prices and now this turmoil," New York University economist Nouriel Roubini said in a Bloomberg TV interview from Davos. He said the Fed raising rates in March is "off the table."
The market-implied probability the Fed will increase its benchmark at or before its March meeting has dropped to about 24 percent, down from 51 percent at the end of last year, according to futures data compiled by Bloomberg. The Federal Open Market Committee is set to announce its next rate decision on Jan. 27.
"Treasuries are taking a pause for breath after the recent rally as investors await next week's FOMC meeting," said Nick Stamenkovic, a fixed-income strategist at Edinburgh-based broker RIA Capital Markets Ltd. Market rate expectations are "too sanguine in our view."
Before it's here, it's on the Bloomberg Terminal.
LEARN MORE