Yuan Drop Draining Cash Threatens to Cap Record China Bond Rally
Bloomberg News
Dacheng Fund is cutting exposure to China corporate notes

Everbright Securities adopts trading strategy on sovereign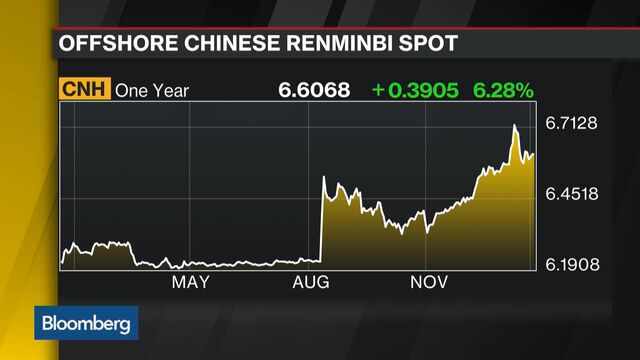 The yuan's tumble is threatening to upset China's record bond rally, prompting funds managing more than $20 billion in fixed-income assets to become more cautious.
The currency fell 5.6 percent in the past year, triggering an acceleration in capital outflows. While the central bank is pumping cash into the financial system to replace funds that exit, such easing can weaken the yuan further and trigger a vicious cycle. Dacheng Fund Management Co., which oversees about 100 billion yuan ($15 billion) in fixed-income assets, is cutting corporate note exposure. Everbright Securities Co.'s asset management department, which manages 50 billion yuan, is moving to a trading strategy on sovereign bonds, said Li Jianming, deputy general manager.
"Definitely capital exodus has become a factor to consider when the central bank sets its monetary policies," said Li. "That would have implications for liquidity in the capital markets. Capital flight is negative for the bond market, although I think the impact will be limited. The market has lowered its rate cut expectations. But there are still strong expectations that there will be further cuts in reserve ratios."
Current and former advisers to the People's Bank of China said this week that policy makers need to make stabilizing the exchange rate and curbing outflows a priority as they consider monetary easing. Threats to China's bond market are mounting, after the overnight money-market rate rose to a nine-month high Wednesday amid cash hoarding in the runup to the Lunar New Year holidays.

In the medium term, the bullish trend for China's notes will remain intact as the PBOC will maintain easier monetary policy to boost the weakest economic growth in a quarter century, according to Dacheng Fund and Everbright Securities.
Six interest rate cuts since November 2014 of a combined 1.65 percentage points have cut borrowing costs and spurred a bull run for eight straight quarters in the nation's bonds. The benchmark stock gauge's 17.6 percent tumble this year has also helped, scattering cash into fixed-income securities.
"The problem of capital flight should persist unless the expectations on renminbi depreciation dissipate," said Zhong Mingyuan, deputy general manager of Dacheng Fund Management. "The market is still expecting some reserve ratio and interest rate cuts this year. There is still room for sovereign bond yields to go down. But any further yield fall will be limited."
Yet while Chinese bond yields remain near decade lows, there are signs the broader market turbulence is starting to register. Yields on top-rated corporate notes due in five years have risen 9 basis points this week, set for the the biggest weekly jump since November.
Buyer Caution
There are still many bond bulls but "there is hesitation among bond buyers now," said Wu Sijie, senior bond trader at China Merchants Bank Co.
The PBOC injected 400 billion yuan of cash into the nation's financial market Thursday through open market operations, the most in three years. Li Daokui, a former central bank advisor and currently a professor at Tsinghua University, said this week that "the war of stabilizing the yuan" should be the priority and not interest rates. Ma Jun, chief economist in the PBOC's research bureau, said cutting reserve ratios too much would be bad for stabilizing capital flows and the yuan, China Business News reported Thursday.
Outflows
"Once you start to see large reserve outflows, basically any liquidity that is injected into the system by the central bank then seeps out," Michael Taylor, chief credit officer for Asia Pacific at Moody's Investors Service said Thursday. "This is probably why the market is very focused on capital outflows because it does indicate, if you step forward in a two or three year horizon, this is not a sustainable position."
Government and corporate borrowers in China have taken advantage of the low borrowing costs to boost local note sales about 80 percent this year compared with the same period of 2015 to 632.7 billion yuan, according to Bloomberg-compiled data. Despite the cheaper refinancing costs, at least seven firms reneged on obligations in 2015.
"It is unlikely for bond yields to fall sharply in the near term," said Zhang Liling, Shenzhen-based portfolio manager at Bosera Asset Management Co. "We expect higher volatility in bond yields this year."
— With assistance by Yuling Yang, Xize Kang, Lianting Tu, and Ling Zeng
Before it's here, it's on the Bloomberg Terminal.
LEARN MORE