It's Getting Harder for Japan to Avoid More Stimulus
by and
Kuroda has said delay in hitting price target is due to oil

BOJ faces confluence of challenges at next week's meeting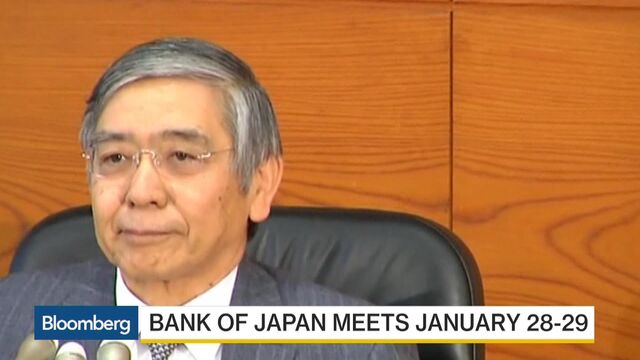 The Bank of Japan is poised, for the third time in less than a year, to delay the time frame for reaching its inflation target, making it harder for policy makers to hold off from enlarging monetary stimulus.
Governor Haruhiko Kuroda until now has been resisting further expansion of the asset-purchase program since 2014, arguing that the repeated reductions in forecasts for consumer prices largely resulted from falling oil costs, which are outside of the BOJ's influence.
The difficulty for board members at their Jan. 28-29 gathering is that they confront a confluence of other challenges: diminished inflation expectations among companies and investors, subdued wage increases, a sell-off in stocks and strengthening in the yen. The question is whether more monetary stimulus, on top of what's already an initiative on a record scale, could help change the dynamic.
"I don't think that the BOJ can stop emerging negative factors - from a renewed decline in oil to yen gains - by additional easing now," said Hiromichi Shirakawa, the chief economist for Japan at Credit Suisse Group AG and a former BOJ official. "But can the BOJ remain inactive? I don't think so. They will have to move again, probably in March."

The political environment in Japan poses another complicating factor and officials are split. Liberal Democratic Party lawmaker Masahiko Shibayama, an aide to Prime Minister Shinzo Abe, said in an interview Thursday that it's too soon for the central bank to take further stimulus measures because the decline in the stock market may be temporary and its causes aren't domestic.
Meanwhile, in the view of one Abe aide, conditions are now in place for the BOJ to expand its stimulus program, the Wall Street Journal reported. The newspaper didn't identify the person, and Shibayama said in the interview "I am not sure" that the person's view represents the consensus of Abe's Cabinet.
In October 2015, government officials and the finance minister had talked down the need for more stimulus as some were concerned that further easing could push the yen lower and hurt consumers -- especially the poor and elderly, people with knowledge of the matter said then.
Stock Market Decline
That landscape may be changing as a result of Japan's stock market rout. The Topix index jumped 2.9 percent as of 9:24 a.m. Friday in Tokyo, after closing Thursday down 16 percent in January, on course for the biggest monthly drop since October 2008. It fell more than 20 percent through Thursday from 2015 highs.
With elections coming up at midyear, Abe and his Liberal Democratic Party don't want to see a plunge in stocks, Credit Suisse's Shirakawa said.
"The BOJ is in an extremely tough situation," said Kazuhiko Ogata, an economist at Credit Agricole SA. "They have to weigh the political situation, the impact of a plunge in oil and a risk of not having much impact by bolstering stimulus now."
Evidence of waning expectations for the pace of inflation over the longer term is undermining the campaign being waged by Kuroda and Abe to break what they term Japan's "deflationary mindset." Gains in the yen in the past month and the Japanese stock market's tumble this week into bear-market territory risk undercutting any appetite among businesses to strengthen domestic investment and pay raises.
The yen traded at 117.71 against the dollar Friday morning in Tokyo, and has advanced the most among major currencies this year. Oil fell to the lowest level since 2003 Thursday.
BOJ officials are increasingly expressing disappointment at subdued annual wage talks, according to people familiar with the discussions, which may also make next week's decision a closer call.
Inflation Target
Kuroda aimed to attain the inflation target in about two years when he launched an unprecedented stimulus program in April 2013. The BOJ postponed the timing of reaching the 2 percent price target twice last year and now say it expects to hit it around the six months through March 2017.
BOJ officials are considering another postponement at a meeting next week, according to people familiar with the matter.
"The BOJ is clearly put under renewed pressure amid financial market turbulence driven by rekindled concerns on China," Ogata wrote in a report this week. "We thus continue to believe that the BOJ's further additional action is inevitable in the near term."
Ogata predicted that further easing is more likely at the BOJ's April meeting than at the January or March meetings, which would give the board more time to assess a restructuring of its asset-purchase program unveiled in December.
Before it's here, it's on the Bloomberg Terminal.
LEARN MORE