VTB Sees Frayed Nerves, No Panic as Russians Absorb Ruble Crash
by
Executives at state-run bank say Russians adjusting to turmoil

Ruble dives to record for second day after crash in oil prices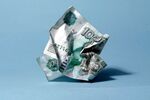 Russia's second-largest lender is seeing no sign of panic sweeping the country's currency market while the ruble slumps to a record for a second day and the central bank holds back from intervening to contain the widening damage from collapsing oil prices.
"There's no particular panic for now, although this volatility is making some people nervous," Yuri Soloviev, a first deputy chief executive officer at state-controlled VTB Bank, told reporters on Thursday at the World Economic Forum in Davos, Switzerland. "We see exporters daily on the sell side. The central bank has so far not intervened, we haven't seen it at all."
The ruble is trading beyond the lows it touched at the peak of Russia's financial turmoil in December 2014. It's headed for its steepest two-day decline in nine months as oil's drop below $28 a barrel drove investors from assets in the world's biggest energy exporter.
Bank of Russia Governor Elvira Nabiullina says the ruble is trading close to its "fundamental levels" and doesn't need support in the form of currency interventions because its depreciation presents no threat to financial stability. The Russian currency was the worst performer in emerging markets, weakening 4.9 percent to 85.390 per dollar as of 12:06 p.m. in Moscow.
People have grown "accustomed to a certain degree and learned to adapt" to swings in the exchange rate, VTB CEO Andrey Kostin said in Davos. Implied three-month volatility for the ruble is the world's second-highest after Argentina's peso, according to data compiled by Bloomberg.
"There's no currency shock, we see no extraordinary behavior by clients," he said. The currency is unlikely to strengthen this year, and the central bank may only step in to smooth "sharp" fluctuations, according to Kostin.
Before it's here, it's on the Bloomberg Terminal.
LEARN MORE