Vietnam Congress Hit by Bad Omen: Death of `Grandfather' Turtle
by and
Turtle said to be deity protecting country from enemy invaders

Creature's death seen as bad luck in superstitious country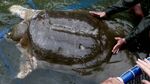 Nguyen Van Minh remembers the first time he saw the rare, giant turtle of Hanoi's Hoan Kiem lake forty years ago. He was 16 and excited to see the creature linked to the tale of a magical sword used to vanquish a Chinese army in the 15th century.
"He was as large as a big bamboo basket," said Minh as he sat on a bench at the lake. "Great grandfather turtle is long known as being sacred. Whenever he surfaces there's an important event."
The turtle, the last of four known to be in the lake, indeed appeared on Tuesday afternoon -- but was lifeless. The demise of the turtle known as "great grandfather" is viewed as inauspicious as Vietnam's Communist Party meets to pick new leaders, a gathering that occurs every five years. In a country where myth, mysticism and history loom large, the turtle's death has spurred chatter on the streets and on social media.
"This morning, some retired state officials exercising on the street were afraid that a strange event might occur," Minh, a security guard, said Wednesday. "I am worried."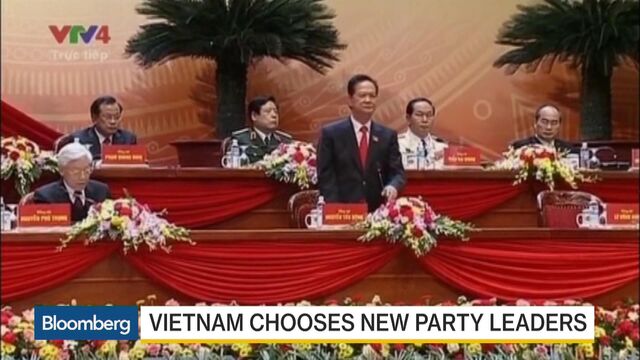 Revolutionary General
The congress formally opens Thursday as Prime Minister Nguyen Tan Dung and current General Secretary Nguyen Phu Trong compete for the post of general secretary. Officials will cast their votes next week to pick the party chief and other leaders, and pass a socioeconomic plan for the next five years.
In an opening speech Thursday, Trong warned Vietnam risks falling behind regional economies and needs to step up its competitiveness. It will increase resources for defense as it's "critical" for the nation to strengthen national defense and maintain security, he said.
The new slate will be closely watched to see if the leaders take Vietnam further away from China -- as disputes with its giant Communist neighbor simmer over contested territory in the South China Sea -- and closer to the U.S., a former war foe. China and Vietnam fought a brief border war in 1979.
Local papers widely reported the turtle's death Wednesday. A party official was cited in official media as blaming cold weather and saying it was not a bad omen.
Turtle watchers though point out it surfaced in public as Vietnam buried national hero and revolutionary general Vo Nguyen Giap in 2013. A turtle died in 1967 and was seen by some to have foreshadowed the death of Ho Chi Minh, the Communist regime's founder, two years later, said Ha Dinh Duc, a retired biology professor who has tracked the turtle for more than two decades.
Turtle God
The creatures in the lake are "believed to be manifestations of the Golden Turtle God," a deity that's helped the country thwart enemies, the Thanh Nien newspaper reported in 2011 when officials rescued the turtle to treat it for lesions. It was then more than two meters long and weighed 169 kilograms, said Duc. The turtle was also found to be female, according to state media, though it's usually referred to as male.
"Speaking about great grandfather turtle makes me want to cry," said 78-year-old Nguyen Ba Dan, who sells paintings and calligraphy from a bench at the lake. "Great grandfather turtle is a symbol of Hanoi and of our country."
Generations of Vietnamese children are taught that Emperor Le Loi was given a sword from heaven used to evict Chinese invaders in 1427. While boating on the lake after his victory, a turtle god surfaced to take back the blade. The Lake of the Returned Sword, its translated name, is now a tourist spot.
'High Hopes'
On social media sites, Vietnamese pondered what the death might mean for the party meeting, with many calling it a "bad omen". Posts on the Voice of America's Vietnamese Facebook page said it presaged everything from a Chinese invasion to the collapse of the Communist Party.
"The turtle was responsible for keeping the valuable sword by Emperor Le Loi and awaited a talented leader so he can hand the sword over, but he saw no one after decades," Facebook user Viet Nguyen posted Tuesday.
As for Minh the security guard, he says he is optimistic despite his sorrow for the turtle.
"I have high hopes for this party congress -- my country is opening up its doors to welcome the incorporation into Asean and turn a new page for the country," he said, referring to the Association of Southeast Asian Nations. "I hope the party congress will run well so that more tourists come, the country moves forward and the laborers will benefit."
Before it's here, it's on the Bloomberg Terminal.
LEARN MORE