Ukraine's Leader Blames Russia as Peace Process Fails to Advance
by and
President Poroshenko sees `no positive delivery' from Russia

No progress to ending Donbas conflict at latest talks in Minsk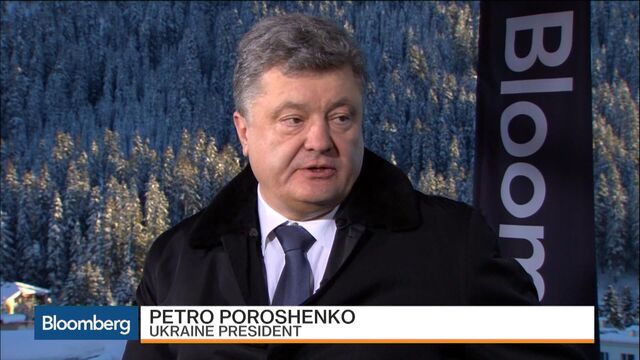 Ukrainian President Petro Poroshenko blamed Russia for delays in implementing an accord to bring peace to his nation's easternmost regions and said sanctions enacted by the U.S. and Europe over the conflict are working.
Poroshenko, who discussed last year's peace agreement during four hours of talks with U.S. Vice President Joe Biden Wednesday in Davos, said Russia has failed to withdraw troops from the war zone, hand back control of the border and release prisoners. Sanctions against Russia, as well as the plunge in oil prices, curb the amount President Vladimir Putin can spend on the military, he said.
"Unfortunately, we do not have any positive delivery from the Russian side," Poroshenko told Bloomberg Television in an interview Thursday in the Swiss ski town. Putin in December "promised that on the security matter we demonstrate de-escalation, and this is completely under his control to stop fire."
The conflict that's killed more than 9,000 people continues to simmer, stoking Cold War tensions and draining resources from the government in Kiev as it tries to nurture a recovery from recession and keep its currency stable after last year's 34 percent plunge. Ukraine must regain control of the rebel-held lands this year, Poroshenko said last week. While the original peace accord, signed last February in Minsk, was due to be completed by 2015, a new deadline hasn't been set. Russia blames Ukraine for the delays.
'Opposite Positions'
The so-called Minsk contact group -- consisting of Ukraine, the separatists its army has been fighting, Russia and the Organization for Security and Cooperation in Europe -- met Wednesday in the Belarusian capital, though there was no progress on advancing the terms of the peace accord.
Matters such as changing the constitution to grant the separatist regions greater autonomy and holding elections there remain unresolved. Ukraine, whose ruling coalition is struggling to muster parliamentary support for the constitutional bill, said Wednesday that it wants a complete cease-fire and control of its border with Russia back before it's willing to address those issues.
Rebel representative Denis Pushilin criticized Ukraine's demand for the return of its border, a step the Minsk agreement called for after the constitutional amendments and local elections. "On political questions, the sides have totally opposite positions," he said Thursday by phone.
Diplomatic Push
The Poroshenko-Biden meeting is part of a flurry of diplomacy over eastern Ukraine this month. Boris Gryzlov, Russia's new envoy at the Minsk talks, met Poroshenko in Kiev, while the Ukrainian leader spoke with the heads of state of Germany and France by phone. Vladislav Surkov, an adviser to Putin, "brainstormed" on Ukraine with U.S. Assistant Secretary of State for European and Eurasian Affairs Victoria Nuland last week in the Russian exclave of Kaliningrad.
Sporadic fighting continues, with the OSCE warning of a potential flare-up if efforts aren't made to seal a complete cease-fire and pull back weapons. Pro-Russian rebels and Ukrainian government troops have largely ignored the call from Gryzlov for a new truce starting Jan. 13. There's a "good basis" for negotiations, Gryzlov, a former Russian interior minister and parliamentary speaker, told the Kommersant newspaper this week.
While Poroshenko said cooperation between the U.S. and Russia over the war in Syria won't dent international support for Ukraine, he took most solace from Russia's economic woes, with the ruble plummeting to a record low as oil prices sank.
"The less money Russia can spend on military expenditure, the better," Poroshenko said. "Better for Russia, better for its neighbors and better for the whole global security."
Before it's here, it's on the Bloomberg Terminal.
LEARN MORE