Travelers Profit Falls 17% as Energy Investments Pressured
by
Insurer has more than $2 billion of energy-related holdings

Stock declines, extending insurer's loss for the year
Travelers Cos., the only property-casualty insurer in the Dow Jones Industrial Average, said fourth-quarter profit fell 17 percent as investment income declined on low bond yields and valuations for energy-related holdings.
Net income dropped to $866 million, or $2.83 a share, from $1.04 billion, or $3.11, a year earlier, when the company had a greater benefit tied to reserves, the New York-based insurer said Thursday in a statement. Operating profit, which excludes some investment results, was $2.90 a share, beating the $2.66 average estimate of 26 analysts surveyed by Bloomberg.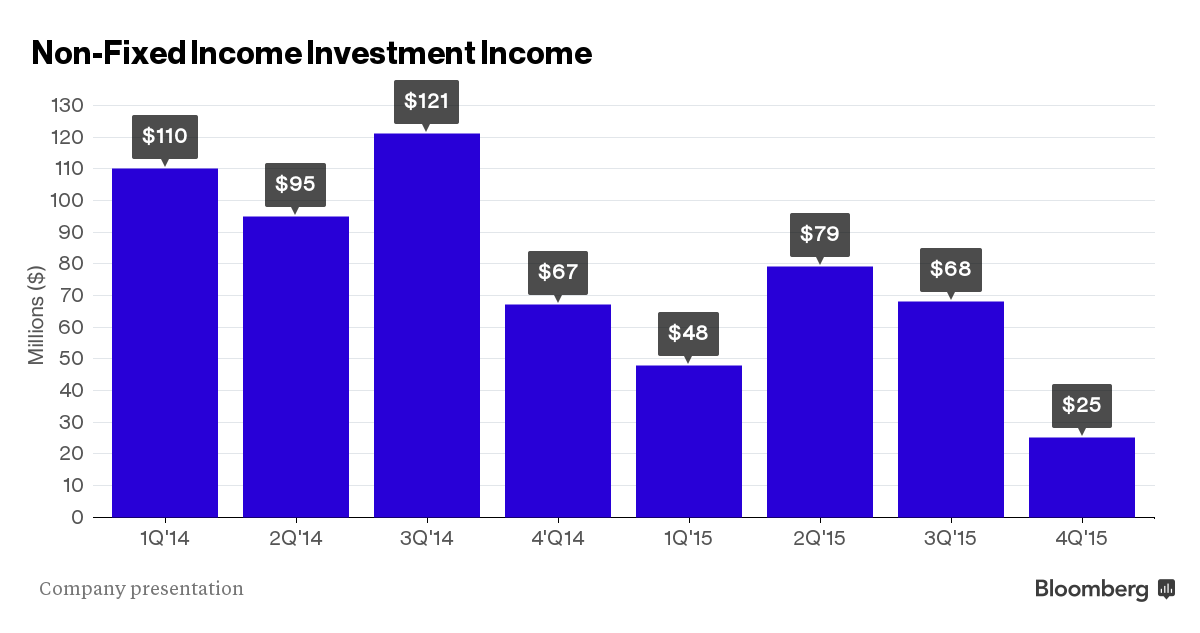 Alan Schnitzer is reporting earnings for the first time since taking over as chief executive officer for Jay Fishman, who steered the company through the financial crisis and then stepped down early last month while fighting amyotrophic lateral sclerosis. Fishman had confronted a decline in investment income in recent quarters amid near-record-low bond yields. The slump in oil prices added another challenge for Schnitzer, pressuring junk bond holdings and limiting insurance demand from energy clients.
Travelers fell 0.9 percent to $102.70 at 4:15 p.m. in New York trading, the third-biggest slide in the Dow Average. The insurer has dropped about 9 percent this year.
Fourth-quarter investment income slumped 14 percent to $440 million. The contribution from non-fixed-income holdings plunged to $25 million from $67 million in the last three months of 2014.
The insurer's energy-related holdings include $681 million of junk bonds, publicly traded stocks and private equity holdings as of Dec. 31, or about 1 percent of the investment portfolio, according to a presentation Thursday. The company also has about $1.6 billion of investment grade energy investments.
Hard Week
"There's probably a little downside left in the portfolio" given that the slide in oil prices intensified this month, Chief Investment Officer William Heyman said on a conference call. "Obviously, this is hard week from which to extrapolate for the rest of the year."
The return on equity in the fourth quarter was 14.5 percent, compared with 16.6 percent in the last three months of 2014. ROE for the year dropped to 14.2 percent, from 14.6 percent in 2014. Annual net income slipped 6.9 percent to $3.44 billion.
Policy sales were $5.86 billion in the fourth quarter, little changed from a year earlier. Travelers charged domestic business insurance customers 2.4 percent more at renewal in the three months ending Dec. 31, according to a slide presentation. That compares with an increase of about 3.2 percent in the third quarter.
In his previous role at Travelers, Schnitzer ran the business-and-international insurance segment, and worked with Fishman to improve margins by raising rates on the least profitable accounts.
Combined Ratio
The insurer posted a combined ratio of 86.6, meaning it retained 13.4 cents of each premium dollar after claims and expenses. That worsened from a ratio of 85 in the fourth quarter of 2014. Catastrophe costs were $46 million before tax, compared with $41 million a year earlier.
The gain from reserves narrowed to $292 million pretax from $351 million a year earlier. Insurers regularly reassess the money they've set aside for future claims and can reduce or increase the amount based on their expectation of losses.
Travelers repurchased $1 billion of its own stock in the fourth quarter and $3.22 billion in the year.
"We continue to believe Travelers is relatively well positioned in commercial lines and personal lines, should continue to generate relatively stable underwriting results and will continue to actively repurchase shares," Larry Greenberg, an analyst at Janney Montgomery Scott, said in a note to investors.
Book value, a measure of assets minus liabilities, climbed to $79.75 a share from $79 on Sept. 30.
Before it's here, it's on the Bloomberg Terminal.
LEARN MORE