The Search for Reason in a Market Swinging 500 Dow Points a Day
by and
Divining a message about anything is starting to seem futile

Stocks end at a 21-month low even with rally in final hours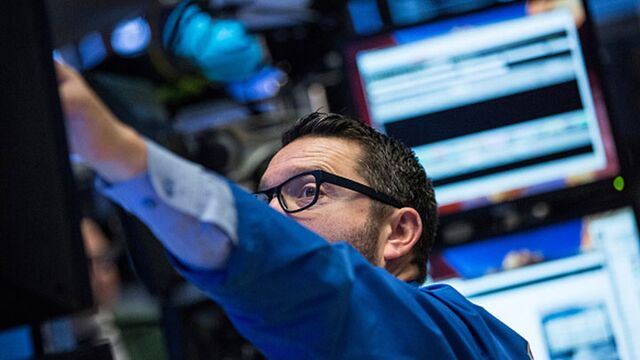 Another day, another 500-point swing in the Dow Jones Industrial Average. For traders trying to discern a message or direction from equity prices, the quest is proving futile.
The breakneck volatility that has whipsawed global markets in 2016 surfaced with new force Wednesday, pushing the Dow down 565 points in the morning before it made up about two-thirds of the loss in the final hour. Stocks in the U.S. have alternated up and down days for six sessions, posting an average swing of 2.7 percent -- almost triple last year.

Jarring moves in the world's biggest equity market are playing havoc with strategies aimed at spotting trends and riding momentum. Investors trying to interpret a message about the economy or the future of Federal Reserve policy are being frustrated amid share fluctuations that are the wildest since 2011.
"I wake up every day wondering whether or not my world view is correct. You can never be complacent,"  said David Joy, the Boston-based chief market strategist at Ameriprise Financial Inc., which oversees $766 billion. "You have to constantly be on the lookout for what you don't know. You're always vigilant and always wary."
More than $575 billion was restored to American equities in the afternoon rebound as heavily shorted industries such as semiconductors rose as much as 5 percent from their lows. The recovery pared the decline since May in an MSCI index of global equities to under 20 percent, sparing investors from a global bear market. For now.
The late-day surge ended one ignominy that has dogged U.S. shares for most of January. At 9 percent, the decline in the S&P 500 since New Year's is no longer the worst ever for the American equity gauge. That status reverts to 2009, when the S&P 500 plunged 11 percent over the first 12 sessions. Futures contracts on the S&P 500 rose 0.3 percent as of 8:22 a.m. New York on Thursday.
But confidence in the U.S. economy is being shaken as the drumbeat of daily lurches in equities stands in contrast to a 5 percent unemployment rate and predictions that gross domestic product will expand in 2016. Traders are left searching for catharsis -- a selloff powerful enough to make bulls give up and leave prices at levels where calm is restored.
"Everybody has been perched on the edge of their chair waiting to see a capitulation day, in which you get a really steep flush in equities," said Mark Luschini, chief investment strategist in Philadelphia at Janney Capital Management LLC, which oversees about $68 billion. "We had that today."
Wednesday was as notable for the size of the recoveries as it was for the extent of the early swoon. A group of semiconductor and equipment shares in the S&P 500 went from down 1.8 percent to up 0.7 percent, while the pharmaceuticals and life sciences industry group erased a 2.7 percent plunge to finish with a 0.4 percent gain.
Even with the final-hour rebound, selling in the S&P 500 remained broad-based. Technology and material companies briefly shuffled into positive territory, only to give up gains by 4 p.m., leaving health-care as the only group out of 10 to end the day up.
It's a market that's left strategists like Oppenheimer & Co.'s John Stoltzfus reminding his clients that they've weathered corrections before. Having history on your side helps relieve the stress that comes with plunging stocks, he said.
"From a position of experience, and I've been in this business for 33 years, market pullbacks are not a rare occurrence, though not an everyday occurrence," Stoltzfus, the New York-based chief market strategist, said by phone. "The type of environment that we're in now generates more drama than this market deserves. It's never any fun to watch stock prices fall and concerned people be concerned."
At the same time, confidence hasn't paid, either, as early gains repeatedly faded and gauges of market volatility climbed to the highest level since the summer rout. Violent intraday swings, which have sent the S&P 500 careening an average 43 points per day this year, are part of the process needed for the market to find a bottom, Luschini said.
"That's ultimately what you'll need to stabilize conditions, before you can even start to talk about a more durable advance," he said. "My sense is not that people are panicking, but rather increasing concern. The market selloff has gone deep enough that people are starting to wonder whether this is a repeat of 2008. Scars are still unhealed in many cases, and investors want to make sure they're preparing."
Before it's here, it's on the Bloomberg Terminal.
LEARN MORE