Sweden Jobs Agency Says Government Won't Reach Unemployment Goal
by and
Immigrant influx will boost unemployment into 2020: agency

Says a number of measures will be needed to cut unemployment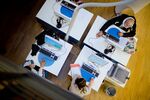 The Swedish government's own employment agency says the surge in immigration means Prime Minister Stefan Loefven won't reach his goal of having the lowest unemployment in the European Union in 2020.
"It's not realistic," Mats Wadman, head of analysis at the Swedish Public Employment Service, said in a phone interview on Thursday. "It will be very hard to reach that target."
The goal is under pressure from a record influx of immigrants to the Nordic nation. While unemployment will fall to 6.6 percent by 2017, from 7.5 percent in 2015, it will then rise again and reach 7.5 percent by 2020, even as the economy is seen expanding at a good clip, the service said. Germany currently boasts the EU's lowest unemployment at about 4.5 percent.

"There's an apparent risk´´ that unemployment will get stuck at more than 7 percent also beyond 2020, Wadman said. "We will have to live with high unemployment for many years going forward, that's completely obvious."
Finance Minister Magdalena Andersson, who set the jobs target ahead of winning 2014 elections, on Friday said that the goal is designed to be ambitious and that her Social Democratic-led government is still determined to reach for it. The government is, for example, increasing subsidies for companies that hire people who otherwise would find it hard to get a job.
"When we now see more people who stand a bit further away from the labor market coming to Sweden, then, of course, it becomes even more ambitious," she said to reporters. "It's important that we work systematically to reach that target."
Sweden is also clamping down after accepting more asylum seekers per capita than any other EU country from war-torn countries such as Syria and Afghanistan. Sweden received a record 163,000 asylum seekers in 2015, including almost 80,000 in October and November.

If history is any judge, many of them will have difficulties in finding jobs.
A study from the National Audit Office showed that only 53 percent of refugees who arrived in 2003 had found jobs by 2013. Still, the share of people with jobs is higher in Sweden than in most other European countries. Stripping out the effects of the immigration surge that started this autumn, unemployment would have been 6.7 percent in 2019, compared with the 7.1 percent the employment agency now forecasts.
"Unemployment is falling quite well for those born in Sweden, who can take advantage of the improvement, but it takes longer for those born abroad, especially those born outside of Europe," Wadman said. "A large number of measures need to be put in place to solve this," including increasing spending on education for immigrants who have limited academic backgrounds, he said.
Before it's here, it's on the Bloomberg Terminal.
LEARN MORE