Somalia Beach-Front Restaurant Siege Kills at Least 25 People
by
Suspected al-Shabaab gunmen fired at patrons indiscriminately

Somali authorities take mastermind of attack into custody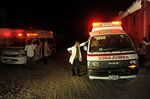 At least 25 people died when suspected Islamist militants attacked a beach-front restaurant and a hotel in the Somali capital, Mogadishu.
The siege by at least five gunmen began at about 7 p.m. on Thursday with a car-bomb explosion and ended in the early hours of this morning, Captain Mohamed Aloley, a police officer in the city, said in an interview. The authorities suspect al-Shabaab carried out the attack and the mastermind of the raid is in custody, the National Intelligence and Security Agency said in a statement broadcast on state radio.
"They shot and killed indiscriminately," Aloley said at the scene of the assault -- the Lido Seafood Restaurant and the Beach View Hotel. "The attack continued for about seven hours. Security forces managed to get inside to get rid of the attackers. Those who were fighting inside were killed by the soldiers."
Al-Shabaab, the al-Qaeda-linked group that's been fighting the Somali government for the past decade, is carrying out an increasing number of attacks on hotels in Mogadishu. Their ranks have been depleted by a multinational African Union force fighting the insurgents in southern and central parts of the country. At least eight hotels were attacked last year, including a raid on the Maka Al-Mukarrama Hotel in March that left 20 people dead.
Car Bomb
Thursday's attack began when a car bomb exploded outside a gate at the seafood restaurant, which is popular among government workers. Gunmen entered the compound after the blast and began shooting.
"We heard a heavy explosion followed by gunfire," said Mohamed Somow, an eyewitness who hid in a toilet in the restaurant when the attack started. "I saw a militant fighter shooting indiscriminately on everybody. I locked myself inside a room until we were evacuated by the security forces."
Al-Shabaab has waged an insurgency in Somalia since 2006 to impose its version of Islamic law. It's used the country as a staging ground to carry out attacks in neighboring Kenya, East Africa's largest economy, and Uganda. The militant group controlled most of southern and central Somalia until African Union troops forced the insurgents to withdraw from Mogadishu in August 2011.
"These barbaric attacks carried out by the terrorists Al-Shabaab" are aimed at undermining Somalia's socio-economic development, Prime Minister Omar Abdirashid Sharmarke said in an e-mailed statement condemning the assault. "It will not hamper the commitment of my government and that of our people to resurrect Somalia."
Before it's here, it's on the Bloomberg Terminal.
LEARN MORE