Schlumberger Seen as Only Oil Servicer Surviving Margin Drop
by
Major oil companies said looking to standardize equipment

Global energy industry cut spending by $100 billion last year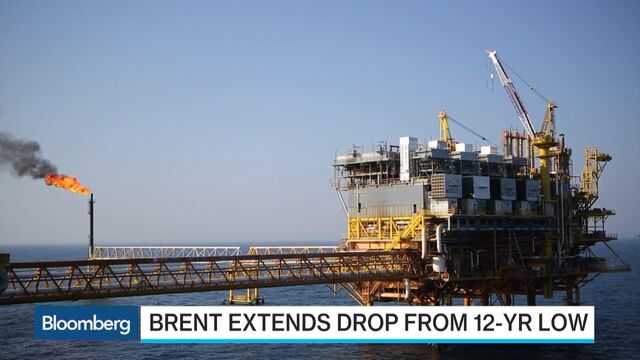 Oil company earnings are expected to be so grim that only the biggest of the big service providers will keep its head above water.
When Schlumberger Ltd. kicks off the reporting for fourth-quarter earnings in the U.S. oil patch Thursday, it may be the only one of its peers that turned a profit in North America, said James West, an analyst at Evercore ISI in New York. The world's largest oil-services provider is expected to report total company earnings, excluding certain items, of 63 cents a share, according to the average of 37 analyst estimates compiled by Bloomberg. That would be a drop of more than half from a year earlier.

"The tone overall is going to be pretty somber, pretty negative," Rob Desai, an analyst at Edward Jones in St. Louis, said Wednesday by phone. "Commodity prices tanked even more, which wasn't really expected. The cost structure is something that may have to be addressed."
The global energy industry slashed more than $100 billion in spending and 250,000 jobs last year to keep pace with crude prices that have fallen by 75 percent since June 2014. Explorers and producers are expected to cut spending another 15 percent this year to $444 billion, J. David Anderson, an analyst at Barclays Plc, wrote last week in a note to investors. It's the first "double dip" spending drop since 1986 and 1987, according to the note.
Schlumberger rose 1.5 percent to $61.99 at 10:48 a.m. Thursday in New York.
Hardest Hit
The contractors that provide the services for mapping underground pockets of oil, operating the drilling rigs and building the gear to smash the rock and pump the crude from two miles underground have been hit the hardest and were the first to feel the pain 18 months ago. Now it appears their customers will ask more of them. That probably shrank Schlumberger's margin to 6.4 percent from 8.9 percent in the third quarter, according to Luke Lemoine, an analyst at Capital One Southcoast in New Orleans.
The world's largest oil companies, grappling with the lowest crude prices in 12 years, met behind closed doors at Davos in a push to cut costs by standardizing some of the equipment used in exploration and production, according to two people who attended.
The meeting, attended by the heads of Saudi Aramco, BP Plc, Statoil ASA and Repsol SpA, as well as senior executives from Royal Dutch Shell Plc, Total SA and Chevron Corp., is the latest sign the industry is moving away from the bespoke kit designed on a project-by-project basis that seemed affordable during the decade-long boom in prices.
While standardization is going to become a much bigger topic for sparking activity at a lower cost, crude prices at this level are still well below breakeven for almost all oil projects around the world, West said.
Halliburton Co. is expected to report on Jan. 24 earnings of 24 cents, according to an average of 35 analyst estimates compiled by Bloomberg. The world's second-largest services provider is looking to gain regulatory approval around the world for its bid to buy the No. 3 contractor Baker Hughes Inc. Houston-based Baker Hughes is expected to report a loss of 10 cents, excluding certain items, according to the average of 31 analyst estimates compiled by Bloomberg.
While the topic of standardization may grow among the service providers, it's not exactly something they're embracing, Desai said.
"The way they generate value for their shareholders is to have their own products that are a little more specialized," he said. "I don't think they'll be too positive on standardization, but to some extent we probably will see that."
Before it's here, it's on the Bloomberg Terminal.
LEARN MORE