Bank of Russia Chief Axes Davos Trip as Ruble Speculators Pounce
by and
Nabiullina's ruble comments spurred selloff, Commerzbank says

Russia currency still too strong relative to oil after plunge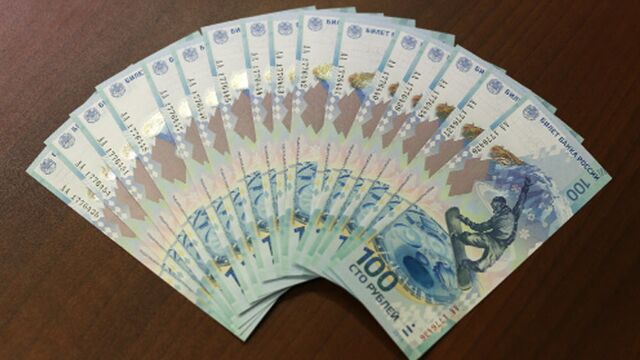 Russia's central bank governor canceled a visit to the World Economic Forum as the ruble's historic fall accelerated for a second day after speculators pounced on her comments that policy makers don't intend to intervene in the market.

The Bank of Russia's press service gave no reason for Governor Elvira Nabiullina's decision not to travel to Davos on a day that the ruble declined as much as 5.3 percent to 85.999 per dollar, the most in emerging markets. Five-year government bonds slid, lifting the yield 3 basis points to 10.95 percent, the highest since October. 

Nabiullina said in an interview on Wednesday the ruble was approaching "fundamental levels" that didn't require intervention unless "risks to financial stability" appeared.
Those comments were tantamount to inviting a full-blown attack on the currency, according to Lutz Karpowitz, an analyst at Commerzbank AG.
"Under no circumstances" should a central bank encourage speculation by saying it won't intervene, Karpowitz said, adding that any intervention now will be a signal that the whole system is in danger. "Sometimes it's better for a central banker to say nothing."
The ruble pared declines later on Thursday, trading 1.4 percent weaker at 82.5090 as of 8 p.m. in Moscow after Brent crude rallied.
Putin Angst
Wild swings in the ruble and double-digit inflation are complicating Vladimir Putin's efforts to overcome Russia's longest recession since he came to power in 2000 and add to a growing list of challenges that includes two wars.
Putin's spokesman, Dmitry Peskov, said the Kremlin is confident the central bank will prevent a collapse of the currency, a position echoed by Sergey Fishgoyt, deputy head of foreign-exchange trading at Otkritie Bank in Moscow.
"So far, there's no panic," Fishgoyt said. "The key sellers are speculators, both local and foreign."
Still, the ruble's slump lags oil's 26 percent decline so far this year to below $28 a barrel, making the currency of the world's largest energy exporter expensive relative to crude and cutting tax flows to the government.
'Catching Up'
"The ruble is catching up with oil as investors review their view of Russian assets," said Alexei Egorov, an analyst at Moscow-based Promsvyazbank, which provided the second most accurate ruble forecast in 2015. "After the ruble crossed the psychological level of 80, traders sharply accelerated their selling."
Now that the ruble is trading beyond the lows it touched at the peak of Russia's financial turmoil in December 2014, the pressure on the central bank to step in will only intensify, according to Dmitry Polevoy of ING Groep NV.
The first step may be to impose some controls over capital movements by the biggest exporters, Polevoy said. Monetary authorities could also affect sentiment verbally, such as by announcing changes to the parameters of repurchase agreements, he said.
When the ruble briefly crossed 80 on Dec. 16, 2014, the currency quickly rebounded, thanks mainly to the central bank's snap decision to raise interest rates by 650 basis points.
But such a bold move is looking less likely this time, said Koon Chow, a currency strategist at Union Bancaire Privee in London.
"It's sensible not to stand in the way of a freight train," he said. "When you have oil prices under such pressure, it makes sense not to stand in the way. Oil prices will probably trade down to the low 20s and the ruble will follow."
Before it's here, it's on the Bloomberg Terminal.
LEARN MORE