Regulation Made World More Dangerous, Blackstone's CEO Says
by and
Steve Schwarzman says European banks in delayed recovery

Sees opportunities to work with banks on potential asset sales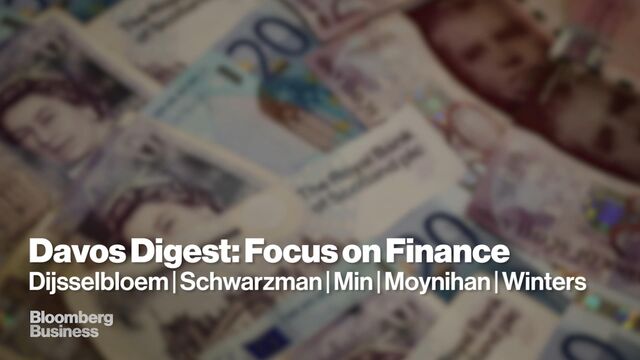 Financial regulators failed banks before the financial crisis, then stifled the industry's recovery in Europe, according to Blackstone Group LP Chief Executive Officer Steve Schwarzman.
Schwarzman, speaking at the World Economic Forum in Davos, Switzerland, sparred with Dutch Finance Minister Jeroen Dijsselbloem over the effect of rules imposed on financial markets. The panel also featured Brian Moynihan, CEO of Bank of America Corp., Standard Chartered Plc CEO Bill Winters and Min Zhu, the International Monetary Fund's deputy managing director.

"Regulation has made the world more dangerous" on certain levels, said Schwarzman, a co-founder of the world's largest private-equity firm. "I don't have as much faith that just putting things into the hands of regulators gives remarkable outcomes."
Some financial supervisors who oversaw the industry before the 2008 crisis didn't do their jobs correctly, according to Schwarzman. Their actions since then have made some firms safer, but they've had undesirable effects on markets such as forcing some dealers out of fixed-income market making and choking lending, he said.
Asset Sales
Bank regulation deterred Blackstone from buying a private Swiss bank when the industry was "beaten up," Schwarzman said. He didn't elaborate. Still, the industry in Europe is so stifled by a delayed recovery from the crisis that companies such as Blackstone see opportunities for banking asset sales, he said.
In times of stress, fixed-income markets have "huge gaps" where dealers are no longer able to facilitate bids, resulting in "huge losses," Schwarzman said. That's down to the impact of regulation, he said.
By contrast, U.S. banks have been a regulatory triumph, Schwarzman said.
"Europe is so fractured," Schwarzman said. "European banks are in such a state of delayed recovery; I don't know what they were doing for years -- it's a mystery to me."
Forced Intervention
Dijsselbloem countered Schwarzman's assertion, arguing that governments were forced to intervene by bailing out banks to prevent a collapse of the financial system.
"Please don't say that we've over-regulated the banks," the minister said. "Governments had to step in at an extreme price for tax payers with a massive negative effect on the real economy and we're still dealing with it now."
Dijssebloem acknowledged that regulators have more work to do to ensure that banks hold sufficient capital to withstand shocks. Capital requirements are among a number of issues that must be dealt with to help banks grow again, he said.
The financial technology movement, where newcomers are trying to disrupt the financial-services industry in areas such as payments and lending, is creating new challenges for regulators, according to Bank of America's Moynihan and Standard Chartered's Winters. Both said they expect new rules to lag behind developments in the industry.
"It's important for us and regulators to ask the question: 'why do banks exist? what's the value added?'" Winters said.
Before it's here, it's on the Bloomberg Terminal.
LEARN MORE