Piles of Cash Mean the Biggest Companies Will Get Even Bigger
In a slow growth world, the corporate savings glut means little will be left over for others.
by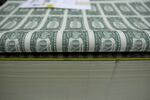 The world's biggest firms are sitting on mountains of cash and have no idea how to spend it.
"The corporate sector in most advanced economies is running a savings-investment surplus," writes Macquarie Head of Japan Research Peter Eadon-Clarke and Analyst Nara Song. "This is an unintended byproduct of the monetary policy response to credit bubble/busts that transfers income from the household sector to the corporate sector: the lowering of policy interest rates to near zero and flattening the yield curve."
The pair point to a paper by Fed Board of Governors economists Joseph Gruber and Steven Kamin suggesting this corporate savings glut "appears consistent with the concerns about secular stagnation that have gained attention of late."
They view this development as decades in the making. Globalization has been conducive to the rise of "oligopolistic" competition, a market structure in which there are substantial barriers to entry, and a small number of suppliers with a fair degree of pricing power dominate a given industry. The big players square off against each other, and no one else gets in. 
Leading firms have been maintaining their pole position by investing heavily in research and development, relative to peers. As a result, they remain on the cutting edge with respect to new technologies in their respective sectors, observes Macquarie.
Japan was ground zero for persistent corporate savings surpluses, and the conditions that led to its rise there--low nominal interest rates and fewer domestic investment opportunities--are now common characteristics for most advanced economies.
Ordinarily, businesses have many things to do with their cash: boost inventories, raise wages, make capital expenditures, pay down debt, return money to shareholders via buybacks or dividends--or snap up other companies.
In the current environment, only the last two items on that list matter, write Eadon-Clarke and Song. Especially M&A.
 "Global cross-border M&A in 2015 was 40% above its previous high of 2007,'' they wrote, with the caveat that generalizing about "the corporate sectors in the G7 is to average some divergent trends and different corporate behaviors.''
This boom in cross-border acquisitions is here to stay, according to Macquarie, as firms scale up globally to cement their market share, competitive position, and pricing power.
"We expect 2016 to be another year of intense cross-border M&A, with the trend towards global oligopolistic competition amongst multinational companies continuing," conclude Eadon-Clarke and Song. "In a slow growth world, there is little left over for others."
Before it's here, it's on the Bloomberg Terminal.
LEARN MORE