PBOC Injects Most Cash in Three Years in Open-Market Operations
Bloomberg News
China adds 400 billion yuan using 7-, 28-day reverse repos

Standing Lending Facility, Medium-term Lending Facility used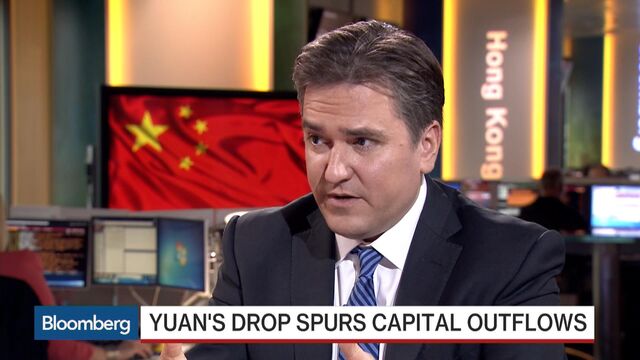 China's central bank cranked up cash injections in its money-market operations for the third week in a row, heading off a squeeze as a seasonal jump in demand for funds coincides with surging capital outflows.
The People's Bank of China added 400 billion yuan ($61 billion) to the financial system using reverse-repurchase agreements, the most in three years, bringing net injections via its various lending tools for the month to more than 1 trillion yuan. The Chinese New Year holiday, a period when families get together for celebrations and exchange gifts, will shut banks for the week starting Feb. 8. Guotai Junan Securities Co. estimates cash demand will surge by about 3 trillion yuan in the run-up to the break.
China is trying to hold borrowing costs down to support its economy without spurring a capital exodus that drove the yuan to a five-year low this month. Gross domestic product rose last year at the slowest pace in a quarter century and intervention to prop up the exchange rate led to a record $513 billion drop in the nation's foreign-exchange reserves.
"The market is a bit nervous and liquidity is also needed to cover the Chinese New Year," said Frances Cheung, the Hong Kong-based head of rates strategy for Asia ex-Japan at Societe Generale SA. The cash injections "add to market expectations for a delay in a reserve-ratio cut, which in itself could be linked to the currency-market performance," she said.
The overnight repurchase rate fell four basis points to 2.09 percent as of 4:47 p.m. in Shanghai, a weighted average from the National Interbank Funding Center shows. The comparable rate for 14-day loans between banks climbed 35 basis points to 3.64 percent, after jumping by the most in a year on Wednesday.
The PBOC conducted 110 billion yuan of seven-day reverse-repos and 290 billion yuan of 28-day contracts, more than the 160 billion yuan that matured. It also injected 762.5 billion yuan into the banking system via three-, six- and 12-month loans under its Medium-Term Lending Facility this week, while Short-Term Liquidity Operations were used to add 55 billion yuan of three-day loans on Monday and a further 150 billion yuan of six-day funds on Wednesday. In addition, the monetary authority auctioned 80 billion yuan of nine-month treasury deposits on behalf of the Ministry of Finance, and its branches used the Standing Lending Facility to ensure liquidity supply.
Capital Outflows
An estimated $843 billion of capital flowed out of China in the 11 months through November, according to a Bloomberg estimate, and policy makers are having to add funds to the financial system to prevent interest rates rising as money exits. Standard Chartered Plc says lenders' reserve-requirement ratios will need to be cut to free up funds, even with all the cash that's being injected.
"A RRR cut is still inevitable," said Ding Shuang, chief China economist at Standard Chartered in Hong Kong. "The capital outflows have been going on for months, it's not a short-term issue."
The PBOC's recent liquidity support is acting as a "substitute for a reserve-ratio requirement cut," Ma Jun, chief economist at the monetary authority's research bureau, said in an interview Wednesday with China Central Television. Ma reiterated the view in an interview with the China Business News that was published Thursday, saying overuse of reserve-ratio cuts may put too much downward pressure on short-term interest rates and could hamper efforts to stabilize capital flows and the exchange rate.
The PBOC is shifting monetary policy operations from conventional tools to unconventional ones, which would help facilitate the rebalancing of the economy, but interest rates and reserve-ratio cuts will continue to be used, according to Fielding Chen, a Bloomberg Intelligence economist.
The cost of one-year interest-rate swaps, the fixed payment to receive the floating seven-day repo rate, fell one basis point to 2.29 percent after rising for five days, data compiled by Bloomberg show. The yield on sovereign bonds due October 2025 declined three basis points to 2.78 percent, having fallen eight basis points so far this year.
"There's been some subtle change in the PBOC's monetary policy," said Tang Yue, an analyst at Industrial Securities Co. in Shanghai. "Apart from stabilizing the exchange rate, it may also want to prevent investors from adding further leverage in the bond market. Market expectations on loosening may be adjusted."
— With assistance by Helen Sun
Before it's here, it's on the Bloomberg Terminal.
LEARN MORE