Oil-Market Crash Ripples Through Billionaire Premji's Outsourcer
by and
Wipro says oil slump pares revenue growth as clients cut back

Crude may slump to $24 a barrel, CEO Kurien says in interview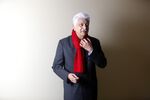 Wipro Ltd., the Indian outsourcing company led by billionaire Chairman Azim Premji, said its push into the energy industry has backfired after the plunge in oil prices.
"It was a bet that was taken strategically for us but right now it's killing us," outgoing Chief Executive Officer T.K. Kurien said in an interview on Wednesday at the World Economic Forum in Davos, Switzerland. "We are very exposed to the oil field sector. Very exposed. We are probably one of the biggest in the world in that sector."
Kurien, who will become vice chairman in February, said the slump in the oil industry has shaved 4 percentage points off Wipro's revenue growth and the company is bracing for prices -- which hovered above $100 a barrel as recently as 2014 -- to hit $24 in the next three to six months. His comments help illustrate how the oil rout is so widespread that its effects are being felt even in far-flung areas such as the technology sector in India.
"Its high exposure to the energy business is a pain point," said Dipesh Mehta, who has a hold rating on Wipro at SBICAP Securities Ltd. in Mumbai. "One of the issues at Wipro is that while specific troubled sectors are hurting revenues, other pockets of business aren't firing hard enough to make up for it."
Emerging 'Mess'
Oil's impacts are particularly being felt in emerging markets, Kurien said.
"With commodity prices where they are, every emerging market is cutting back on costs and some of them are in freeze mode," he said. "Emerging markets are a mess."
For its part, Wipro plans to look for consolidation opportunities so that when prices rebound, the Bangalore-based company will be well positioned to reap the benefits, he said. Despite the slump, Wipro's energy business still generates decent profit margins exceeding 20 percent, he said.
Energy customers accounted for 14 percent of Wipro's information-technology services revenue last quarter, a higher proportion than at bigger rivals Tata Consultancy Services Ltd. and Infosys Ltd.
Besides oil, Kurien said he expects U.S. companies to tighten their discretionary budgets -- a reversal of what he anticipated six months ago -- which may benefit companies such as Wipro as customers look for cheaper outsourcing opportunities. In Europe, the opposite is happening as the weaker euro bolsters profits and encourages companies in the region to boost discretionary spending, he said.
(Click DAVOS for a real-time Brief on the World Economic Forum)
Before it's here, it's on the Bloomberg Terminal.
LEARN MORE