Market Turmoil Could Endure for a While, Morgan Stanley CEO Says
by and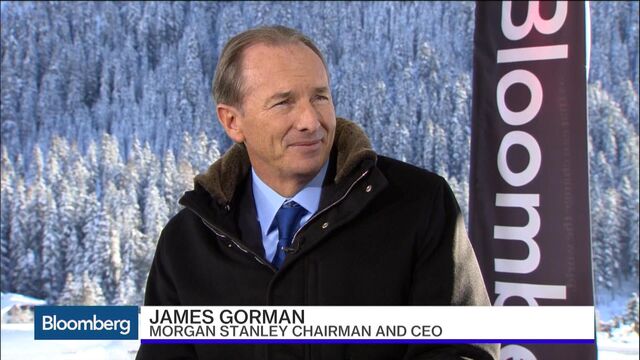 The global equity meltdown that's roiled markets from the U.S. to China could last a while, Morgan Stanley Chief Executive Officer James Gorman said.
"The violence of the correction would suggest it's certainly not temporary," Gorman said Thursday in an interview on Bloomberg Television at the World Economic Forum in Davos. "On the other hand, the absence of the fundamentals to support it suggests it might be. What we're seeing here is a very strong market reaction against a background of frankly very solid global economic growth."
Gorman said market declines reflect investors' concern about the safety of the global economy over the next several years. "This is a much more fundamental, visceral, animal reaction," he said, adding that it might be too early for investors to get back into stocks.
The Standard & Poor's 500 Index fell as much as 3.7 percent Wednesday, the most since August, before partially recovering to close at 1,859.33, down 1.2 percent. All 30 companies in the Dow Jones Industrial Average were below prices at the beginning of the year, with the index down 9.5 percent since Dec. 31. Oil fell 6.7 percent to $26.55.
Asked if oil prices might drop below $20 a barrel, Gorman said he never thought the price would fall below $50.
Separately, Gorman said he would be "stunned" if the Federal Reserve switched gears during 2016 and began lowering interest rates. He said he's confident in Morgan Stanley's ability to reach its target for return on equity in 2017, and called wealth management a "phenomenal business."
Before it's here, it's on the Bloomberg Terminal.
LEARN MORE