Leaks Website Helps FIFA Regulate $4.2 Billion Soccer Trades
By
'All streams of information are very, very useful,' says FIFA

English teams spent $1.3 billion on international transfers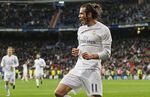 The market for global soccer player transfers reached $4.2 billion in 2015, up 2.6 percent from the year before and largely attributed to the wealthy clubs in the English Premier League, according to FIFA's Global Transfer Market Report.
In discussing the growth of the transfer market, FIFA chief of transfer compliance Mark Goddard also tipped his hat to Football Leaks, a controversial website that has published confidential financial details of player trades. Recently it reported on purchases by Real Madrid and Manchester United, two of soccer's richest teams.
"Obviously, the Football Leaks guys have gone rogue," Goddard said. "For us, all streams of information are very, very useful and that one has been as well. ... That adds to the picture that we try and paint when we do compliance activities."
English Spending
The report shows that of the 13,558 transfer of players between teams internationally, a small minority -- 13.7 percent -- involved a fee being paid. England, home to the Premier League, was responsible for more than 30 percent of the total outlay.
English teams spent $1.3 billion in transfer fees in 2015, the report said, a number that is likely to increase significantly next year when the league's new record television deal begins.
The report also revealed salary data for the first time: $6.6 billion in wages was negotiated as part of players's transfers in 2015. Because domestic transfers are not overseen by FIFA, the total transfer market could be worth double, according to Mark Goddard, who oversees transfer compliance for FIFA.
Gone Rogue
Goddard also said he is pushing for teams around the world to provide greater clarity in how they operate in the transfer market. Spain's three biggest clubs -- Real Madrid, Barcelona and Atletico Madrid -- have all been hit with transfer bans by FIFA after they breached regulations related to signing foreign players under 18.
"It would be really good if we could have a verifiable transparent credible source as opposed to back pages of football magazines and soccer leak websites and these kind of things," Goddard said.
Football Leaks gained attention this week when it published what it purports to be the 2013 agreement that took Welsh attacker Gareth Bale to Real Madrid from Tottenham for a record fee.
Details of who operates the site are unclear. In e-mail exchanges with Bloomberg News, a person representing Football Leaks said the purpose of the website is to increase transparency in the soccer industry. Details published on the site have already led to sanctions against FC Twente in the Netherlands, and there are "multiple cases" open against teams for alleged breaches of the rules governing the transfer market though declined to reveal the identities of the clubs, Goddard said.