Japanese Stocks Plunge Deeper Into Bear Market Amid Global Rout
and
Markets erase early gains even as RSI shows Topix oversold

About $15 trillion wiped from global equities since May
Japanese stocks plunged deeper into a bear market, wiping out gains from early in the day as a global equities rout resumed.
The Topix index fell 2.8 percent to 1,301.49 at the close in Tokyo, reversing gains of as much as 1.6 percent. The Nikkei 225 Stock Average closed 2.4 percent lower at 16,017.26. Both gauges on Wednesday capped declines of more than 20 percent from their 2015 peaks. The MSCI All-Country World Index is also on the brink of a bear market amid plunging energy prices, rising U.S. interest rates and concern over China's ability to manage a transition to more sustainable growth.
"The ground right now is so unstable, and there's so much anxiety," said Ayako Sera, a Tokyo-based market strategist at Sumitomo Mitsui Trust Bank Ltd., which has $453 billion under management. "We saw an early rally, but people are just bottom-fishing. There are no real reasons to stem drops right now."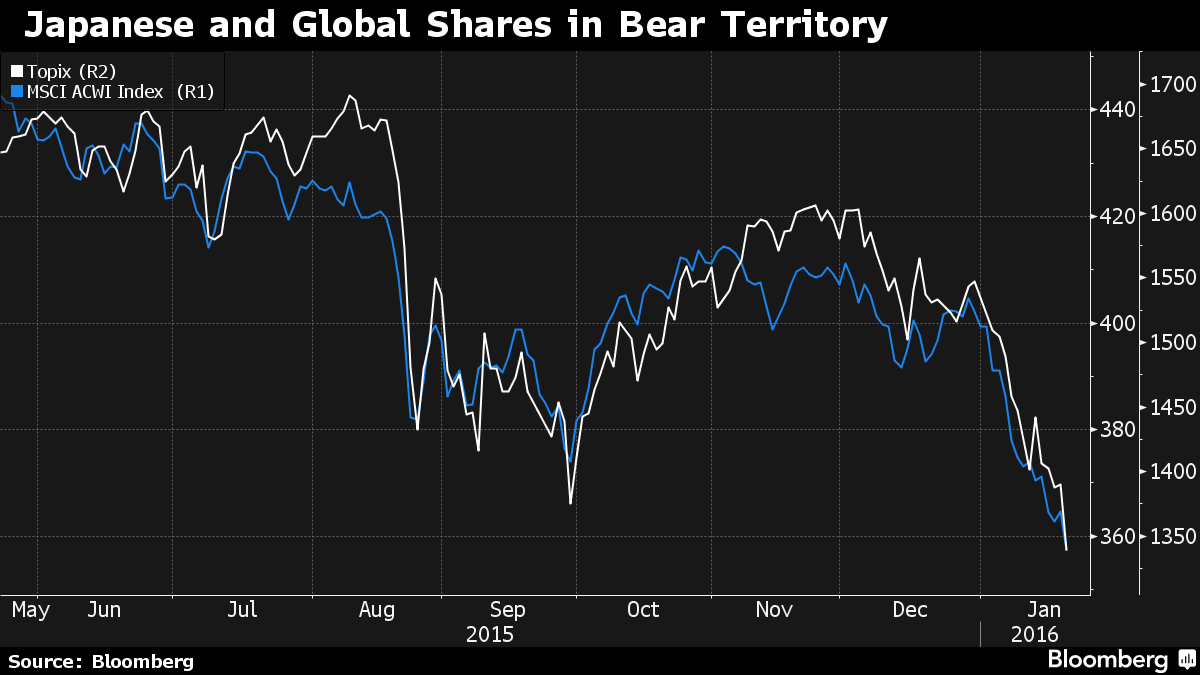 All 33 Topix industry groups closed lower on elevated volume. The Nikkei Stock Average Volatility index jumped 11 percent to 42.56 on Thursday, extending Wednesday's 16 percent surge. 
Yaskawa Electric Corp. dropped 8 percent, the most on the Nikkei 225, after cutting its profit forecasts. Maeda Road Construction Co. sank 7.2 percent after the infrastructure company was probed by Japanese authorities over possible antitrust violations. Toyota Motor Corp. was the biggest drag on the Topix, falling 2.8 percent.
Sharp Soars
Sharp Corp. soared as much as 25 percent after a report Taiwan's Foxconn Technology Co. will offer $5.3 billion to take over the struggling Japanese electronics maker. It pared that gain in the afternoon to close 5.8 percent higher.
Nippon Electric Glass Co. jumped 3.8 percent, among the biggest climbs on the Nikkei 225, after JPMorgan Chase & Co. raised its rating on the stock.
The MSCI All-Country World Index closed down 2 percent on Wednesday, taking its loss to 19 percent from a record high in May. It slipped 0.3 percent on Thursday. E-mini futures on the Standard & Poor's 500 Index lost 0.6 percent after the underlying market fell 1.2 percent to close on Thursday at its lowest level since April 2014. The gauge rallied in afternoon trading, trimming a slide of more than 3.6 percent.
Oversold Signal
The Nikkei 225 last entered a bear market in June 2013, after plunging 20 percent in less than a month. The gauge soon rebounded, rallying 31 percent from its low on June 13, 2013, through the end of that year.
The Topix's 14-day relative strength index closed at 21.29, below the level of 30 that some traders say indicates shares will rise. When the measure slid to 24.4 on Jan. 12, the Topix jumped 2.9 percent the next day.
"As with yesterday, we're still in a falling streak," Mitsushige Akino, an executive officer at Ichiyoshi Asset Management Co. in Tokyo, said by phone. "We're now oversold, and it won't be surprising if we rebound at any point."
West Texas Intermediate crude tumbled the most in more than four months on Wednesday as oil executives turned gloomier on the prospect of a recovery this year. February futures fell 6.7 percent to the lowest since May 2003, expiring at $26.55 a barrel on the New York Mercantile Exchange. March futures lost 0.4 percent on Thursday. Oil's selloff has dragged crude prices down by more than a quarter this year.
Stimulus Speculation
Speculation is mounting that China and Japan may boost stimulus measures. China's economy grew in the fourth quarter at the weakest pace since 1990. 
In Japan, the yen has surged beyond Japan Inc.'s business planning estimates for the first time in the Abenomics era, reviving speculation of additional central bank stimulus. The currency reached a one-year high of 115.98 early Wednesday evening in Tokyo as investors sought haven assets.
Prime Minister Shinzo Abe swept to power in December 2012 on a pledge to weaken the yen and end decades of crippling deflation. While the currency's drop to a 13-year low of 125.86 last year spurred record corporate profits, inflation is lagging far below the central bank's 2 percent goal. The monetary authority next decides policy on Jan. 29.
Before it's here, it's on the Bloomberg Terminal.
LEARN MORE