1 Country, 1 Promise: 1 Million Barrels a Day
Now free to sell oil, Iran has set itself a huge goal. But are its oil fields in condition to reach it?
By , , , and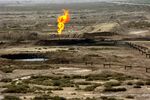 Along the main road skirting the oil and gas hub in the Persian Gulf town of Assaluyeh, signboards still bear the names of foreign companies like Eni, Italy's biggest oil producer. But Eni hasn't started a project or made investments in Iran for more than five years because of international sanctions. Now that those restrictions have been lifted, the country wants overseas expertise and investment to return to help ramp up oil production and exports. But how well have the oil fields been maintained by Iran? That is a "huge unknown," according to Mike Wittner, Société Générale's head of oil market research, because most oil companies haven't had access to those fields for years.
Once OPEC's second-biggest producer, Iran says it's ready to sell 1 million more barrels of oil a day this year. The deal Iran implemented with the U.S. and five other global powers on Jan. 16 opens the market for its crude. Oil Minister Bijan Zanganeh says the country can boost production by half a million barrels immediately by reopening fields the state oil company shut when sanctions kicked in. Iran will add another 500,000 barrels a day within months, he says. The specter of more oil helped spook a market already flooded with cheap crude. On Jan. 20 the price for West Texas Intermediate dropped 6.7 percent, to $26.55 a barrel. Stock markets tumbled in response.
Analysts are skeptical Iran can achieve such an increase. Oil fields depend on pressure inside a reservoir to help force crude out. As more oil is pumped, pressure eases and production declines. That's why oil companies need to continually find deposits, drill more wells, and work to maintain already operating fields.
"Simple things like valves get rusty or air gets into the well," says Nariman Behravesh, chief economist at energy consultant IHS. "These are not trivial matters, and it takes not just time but investment to revamp their production system. It's not just like turning the spigot from off to on." Restarting the same fields that were shut following sanctions will yield only 800,000 barrels a day at most in the next year, says Robin Mills, the Dubai-based chief executive of consultant Qamar Energy who worked on projects in Iran as a geologist for Shell.
The head of the International Energy Agency is more optimistic. "Iran's older oil fields are in good shape," says Fatih Birol. "Without making any investments, Iran can easily lift production by 300,000 barrels a day within two months."
Forced to improvise during years of isolation, Iran's oil industry grew stronger, says Mostafa Khoei, managing director of Dana Energy, a big engineering company in Tehran. Exploration and development never stopped, though they slowed and grew more expensive. Local companies filled the void left by foreign contractors, while equipment purchases shifted from Europe to China. Iran now has at least four private companies with experience developing fields, and eight drilling companies. Before the sanctions, all offshore platforms were imported. Now, all of Iran's new platforms are homemade.
Sanctions cut Iran's exports to 1.4 million barrels a day on average in 2014, from 2.6 million barrels daily in 2011, according to the U.S. Energy Information Administration. To regain its No. 2 spot in OPEC and surpass Iraq, Iran eventually needs to add more than 1.7 million barrels of daily output. Saudi Arabia, OPEC's top producer, pumped 10.3 million barrels a day in December.
Preparations for the 500,000-barrel-a-day increase include designating which of the country's tankers will carry the oil and transporting the crude from the fields to loading terminals, Amir Hossein Zamaninia, deputy oil minister for international and commerce affairs, said in an interview in Tehran. State-run National Iranian Tanker is still working with European insurers to set up coverage for the country's exports, says Nasrollah Sardashti, the company's commercial affairs director.
Iran will be selling into a market that might not want all its oil. Zamaninia says exports will happen in a "managed way to minimize the negative impact" on prices. He did not detail how the country would achieve that. At Davos, Iranian President Hassan Rouhani's chief of staff, Mohammad Nahavandian, told reporters who raised the same issue, "I think you'll have to wait and see."
The bottom line: Iran wants to recover its place as OPEC's No. 2 producer, but first it has to make sure it can meet ambitious production goals.
Before it's here, it's on the Bloomberg Terminal.
LEARN MORE