Get Better Sleep With the Lamp Astronauts Use
The Genesis Lamp is a new hope for better sleep right down here on earth.
By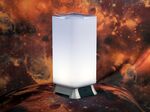 Our bodies evolved to rise with the sun and rest with the moon, and then the lightbulb ruined it all. Artificial light—emitted by everything from office fluorescents to phones—contains sun-replicating blue wavelengths that keep us up into the wee hours, which can potentially lead to obesity, depression, and other diseases, as well as what a doctor might describe as general crankiness.
To remedy this, you could crawl into a hole every night at sundoThe wn, a not altogether unappealing way to avoid Wi-Fi and work e-mail; or invest in a smarter light source. Like the Lighting Science Group's new Genesis LED lamp, which emits different tones at different times of day to mimic the effect of natural sunshine and twilight. "It allows us to have light at night, to do things we think are useful—and maybe still go to sleep," says Fred Maxik, the company's founder.
The Genesis works best when other light sources aren't interfering, but stick it on your desk or bedside table and you'll still reap the benefits. In our test, it was bright enough to light a room on its own and had us wide awake at 6 a.m. NASA says the technology is so effective at regulating our rhythms that it's installing a customized version on the International Space Station, where astronauts experience a possibly crazy-making 16 sunrises and sunsets every 24 hours. $300; available for presale starting Feb. 1 at lsgc.com
Before it's here, it's on the Bloomberg Terminal.
LEARN MORE