Environment
Flint's Not the Only Problem in Michigan
State residents are protesting a plan by a Marathon Petroleum refinery to increase emissions of sulfur dioxide and seven other toxic chemicals.
By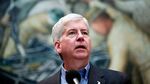 "Government failed you," Michigan Governor Rick Snyder told his constituents in his annual State of the State address on Jan. 19. "You deserve better." The comments were addressed specifically to the residents of Flint, who've been drinking and bathing in lead-contaminated water for more than a year, after the city began using its polluted river as its main water source to save money. "We will be there with long-term solutions for as long as it takes to make this right," the governor went on. Republicans gave Snyder a standing ovation. Democrats in the statehouse were not impressed.
Neither are some of the 7,000 residents living in and around the 48217 ZIP code in southwest Detroit, labeled by the Detroit Free Press as the state's most polluted. They're getting no help from the state in their efforts to stop a Marathon Petroleum refinery from increasing emissions of sulfur dioxide and seven other toxic chemicals. "Before Flint, it was us, the downriver communities, that were and are being polluted," says community organizer Theresa Landrum, who's lived her whole life a couple of blocks from the Marathon facility. "Now they want to give us more pollution."
Marathon, based in Findlay, Ohio, wants to emit an additional 22 tons of sulfur dioxide per year from the facility, an industrial complex that can refine 132,000 barrels a day. The company says the increased emissions are the result of processes it's putting in place to meet new federal regulations requiring the reduction of sulfur in its gasoline from 30 parts per million to 10 ppm by next year.
The Michigan Department of Environmental Quality (DEQ) has said it believes Marathon's proposed emissions increase—a 9 percent jump over the 250 tons per year the company says it now emits—will still fall within federal and state limits. "We have chosen the most efficient, effective manner to getting it done and within regulatory restraints," says company spokesman Jamal Kheiry. State Air Quality Division Chief Lynn Fiedler is due to rule on Marathon's application after a public comment period ends on Jan. 29.
The 48217 ZIP code and its surrounding communities already sit under a gloomy pall of pollution that, as a whole, exceeds the Environmental Protection Agency's air quality standards. Each year, heavy industry in the area throws off 16,000 tons of sulfur dioxide, a chemical associated with respiratory problems. According to a study from Johns Hopkins University released in December, Detroit suffers the highest rate of childhood asthma among the country's 18 largest cities. "A little more pollution in a place as polluted as Detroit can cause an outsized effect," says Abdul El-Sayed, executive director of Detroit's Department of Health and Wellness Promotion. "We should be pushing for less pollution, not more."
Fiedler and the DEQ, whose director and spokesman both resigned in December over their roles in the Flint fiasco, didn't respond to requests for comment. Snyder spokesman David Murray insists the governor isn't turning his back on the potential for another environmental crisis in Detroit. "The governor cares deeply about all communities," Murray wrote in an e-mail. "Much of his administration has been focused on restoring Detroit—the city and now the public schools."
Along with the Marathon emissions increase, the DEQ is also weighing a similar request from a nearby steel plant. The governor's office says the decisions are out of his hands. "If the governor felt strongly about this, he certainly could make that clear within his administration," El-Sayed says. "We're putting our foot down: No more pollution in the city of Detroit. We just can't take it anymore."
The bottom line: As it deals with the Flint crisis, Michigan considers requests from industrial plants to increase emissions in a poor area of Detroit.