Europe's Leaders Cozy Up to Cameron as 'Brexit' Summit Looms
by
French Prime Minister Valls says he's optimistic of U.K. deal

It would be a `catastrophe' if Britain left EU, Schaeuble says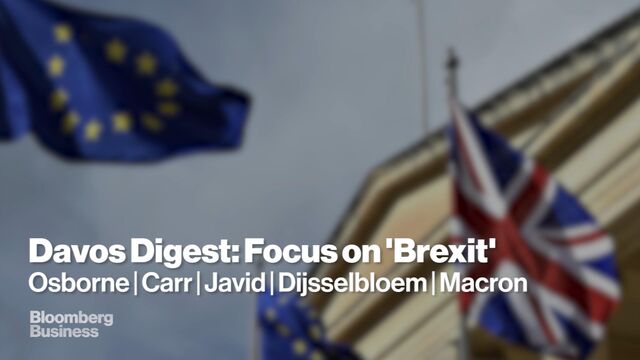 Exactly four weeks before a European Union summit where leaders may -- or may not -- give David Cameron a reform deal he can sell to British voters, government chiefs at the World Economic Forum showed whose side they are on.
"The U.K. is influential, David Cameron is influential, he's an excellent prime minister," his Dutch counterpart Mark Rutte told Thursday's panel debate in Davos, Switzerland. "We'd all be worse off if they leave."

As EU President Donald Tusk prepares for the Feb. 18-19 gathering in Brussels, the bloc's officials are putting the finishing touches to an agreement to satisfy all 28 member states in the hope of preventing "Brexit" -- a British exit from the EU.
While Rutte has shown himself to be one of Cameron's closest allies throughout the renegotiation process, other leaders on the panel at the Swiss ski resort expressed confidence that Cameron will be able to pry sufficient concessions from his EU partners.
French Prime Minister Manuel Valls said he was "optimistic" of a deal. "There would be nothing worse than a country leaving the EU," he said on the same panel. At around the same time, his country's president, Francois Hollande, was telling diplomats in Paris that none of the issues that Cameron has raised are "insurmountable."
'Catastrophe'
German Finance Minister Wolfgang Schaeuble, who was speaking in the same debate as Rutte and Valls, said it would be a "catastrophe" if the U.K. left the EU. "I hope the British decide to stay," he said.
The referendum on the U.K.'s EU membership, which Cameron has pledged to hold before the end of 2017, may take place as early as June this year, Foreign Secretary Philip Hammond said on Wednesday. The main sticking point in the renegotiation is over whether Britain will be allowed to restrict welfare payments to EU citizens who move there for work.
Cameron is also in Davos, where he plans to lobby global business leaders.
Before it's here, it's on the Bloomberg Terminal.
LEARN MORE