Euro Tumbles as Draghi Removes Any Doubts He's Ready to Act
by and
ECB president says policy may be reconsidered in March

Shared currency slumps versus most of its major peers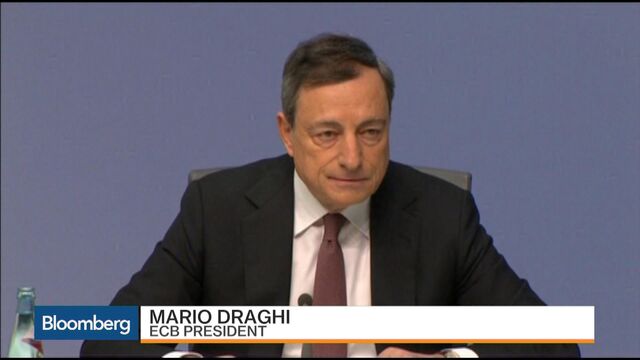 The prospect of further monetary stimulus isn't leading to a clear direction for the euro.
The euro pared losses after falling to a two-month low as European Central Bank President Mario Draghi said the central bank may reconsider its policy stance in March amid a deteriorating economic outlook and turmoil in global markets. The shared currency also trimmed a slump versus the currencies of commodity exporters, including Canada, South Africa and Australia.
"The risk rally has lost some steam," said Robert Tipp, chief investment strategist in Newark, New Jersey, for Prudential Financial Inc.'s fixed-income division, which manages $565 billion. The euro's narrowing losses coincided with the Standard & Poor's 500 Index of stocks paring gains, he said.
Policy makers are struggling to lift inflation, a goal of the ECB, as tumbling commodities continue to weigh on consumer prices. Growing concern about a slowdown in China has roiled markets around the world, further complicating the task. While Draghi reiterated that the euro is "not a policy target," he said the ECB was conscious of the effective exchange rate. Easing typically weakens a currency, which can help stimulate growth and inflation.
The euro fell 0.2 percent to $1.0874 as of 5 p.m. in New York, after weakening as much as 1 percent. The currency lost more than 1 percent versus the Canadian dollar, South African rand and Australian dollar. The euro is up 0.1 percent versus the dollar this year after weakening more than 10 percent during each of the past two years.
No Limits
Hedge funds and other large speculators have pared bets on euro weakness during recent weeks after the ECB disappointed investors with a less-than-forecast extension to stimulus in December, fueling the currency's biggest one-day rally since March 2009.
Draghi defended that decision on Thursday, and said there are no limits to how officials can act within their mandate.
"The market was somewhat surprised by how dovish Draghi sounded," said Paresh Upadhyaya, director of currency strategy in Boston at Pioneer Investments, which oversees about $243 billion. "Coupled with market positioning, which I think is a lot closer to neutral euros, it's no surprise that the reaction we saw was pretty immediate, with a sharp selloff."
Before it's here, it's on the Bloomberg Terminal.
LEARN MORE