Vintage Cars
Driving a 1914 Model T Will Reteach You How to Use a Car
In which our critic braves 12-degree weather to get schooled by an automotive icon.
By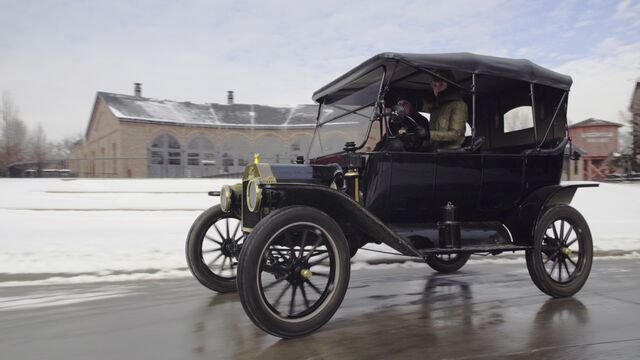 Starting in 1908, Henry Ford sold his novel Model T cars as the first to be really accessible to the masses. Priced at the time around $500 (he eventually got the price down to near $200, which is about $5,000 in today's dollars), they fell into a budget bracket that a farmer or a carpenter could afford.
What's more, he marketed his cars as easy to drive—way more accessible to casual drivers and (gasp!) women since later models started with a button rather than a crank.
Thing is, those old Model Ts were still pretty complicated to drive.

I drove a 1914 Model T the other day on some back roads about an hour outside Detroit. Between the three floor pedals, meter-long emergency brake, steering wheel-mounted throttle, and electric jumper lever also on the steering wheel—not to mention the lack of power brakes/steering and the 12-degree temperatures—it renewed my respect for people who drove this contraption every day in harsh road and weather conditions. They don't call driving one "doing the Model T dance" for nothing.
Here's the gist of it: 
Prime the electric lever on the steering wheel so that ...

When you push the ignition button underneath the seat on your left, the starter is activated.

Then let the engine idle a bit to warm up.

Place your left foot on the far left pedal—this will hold the car in neutral, as the pedal will want to snap up into second gear when you unleash the emergency brake. Place your foot there, but don't push down, because if you push down, that puts the car into first gear, and the whole thing will stall when you start.

Unleash the emergency brake lever that sits at your left wrist while ...

Gently pushing the left pedal forward into first gear while simultaneously ...  

Pulling the throttle lever on the steering wheel toward you with your left hand to help ease the car forward.

Easy does it!

To move into second gear (around 10 mph or so), you let up the left pedal all the way toward you, past neutral, which is in the middle position between first gear and second. (Recall: Push all the way down for first, release it halfway for neutral, release it all the way for second.) With that hand-operated throttle and the push-down-for-first-gear setup, it's kind of like riding a motorcycle.
So wait, wondering about that middle pedal? It's reverse. And the right foot pedal is the brake. You can brake at any point when driving, though if you do it too aggressively, you'll stall out. But no matter, a quick hit of that electrical push button will start the whole thing again.

Once you get into second gear the rest of the car is automatic—you can accelerate all the way up to 45 mph or so. Cruising speed is closer to 20 mph.
Driving this Model T was more difficult than many of the other vintage manual cars I've driven. The throttle is touchy, and the pedals all have to be right in line in order to brake or to go in neutral. But, like most things, it just takes some time to get a feel for it.
Once you learn to cruise, the Model T clicks along quietly, and the four-cylinder, 20-horsepower engine feels like it has plenty of power (the car is mostly wooden and weighs less than 1,500 pounds, after all). Better yet, it's rugged. With that high chassis, big rubber wheels, and forgiving suspension, driving through the January snow and mud doesn't faze it at all.

There are idiosyncrasies, of course.
You have to get into and out of the car from the passenger-side door, since the driver door is blocked by the meter-long emergency brake. There is no power steering or braking. The horn is a literal brass horn. There are no actual sides to the thing—later models had curtains that would unfurl to help keep in warmth, but otherwise these were open-air beasts. And the 10-gallon fuel tank lacks a gauge, so you must guess how far you've gone and assume you get about 20 miles to the gallon. (It lacks any gauges, for that matter.)
But if you find such quirks adorable rather than annoying, you're in luck. Despite the fact that this car is 100 years old, it's not especially rare. You should be able to find one on EBay or Craigslist for less than $10,000.
It's not the easiest car I've driven, nor the most fun—and it's definitely more twee than stylish. But it is a tangible piece of history, one of the few icons you can still touch and operate and say, without a doubt, that this one changed the world. If you get the chance to drive one, take it. 

(
Corrects wording about crank starts in the second paragraph.
)
Before it's here, it's on the Bloomberg Terminal.
LEARN MORE