Draghi Readies for ECB Action in March as Global Risks Escalate
By
China-led slowdown muting impact of ECB stimulus on inflation

No limits to how far central bank willing to use instruments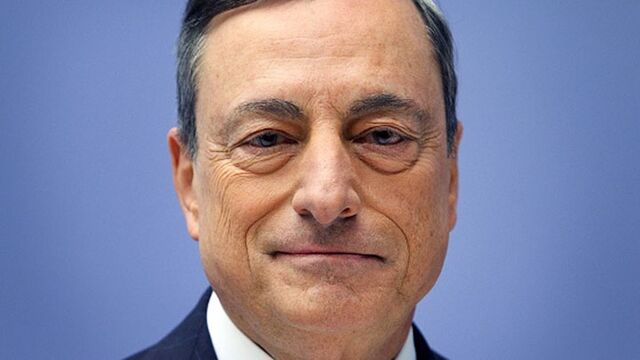 Mario Draghi set the euro area up for expanded monetary stimulus for the third time in a year as China's economic slowdown and market volatility threaten to derail the region's recovery. The single currency slid.
QuickTake Europe's QE Quandary
The European Central Bank president said officials will review their programs at the next policy session in March and there are "no limits" on how far they're willing to deploy measures within their mandate. The Governing Council kept interest rates unchanged at record lows at its meeting in Frankfurt on Thursday.
"We are adapting our instruments to the changing conditions," Draghi said. "The credibility of the ECB would be harmed if we weren't ready to revise the monetary-policy stance."
A year after announcing an unprecedented quantitative-easing plan, and a month after extending that program while making the deposit rate more negative, the ECB is still struggling to lift inflation much above zero. With a cooling Chinese economy sending global markets tumbling and exacerbating an oil crash that is damping consumer price gains, Draghi is insisting that he's still able to act if needed.
Euro Drop
The statement was "not a firm promise, it is a strong hint that they may move," said Holger Schmieding, chief economist at Berenberg in London. "He has the option of not moving, but then he'd have to explain in March that the situation hasn't deteriorated."
The euro slid 0.8 percent to $1.0808 at 4:44 p.m. Frankfurt time. European bonds rose and stocks extended gains.
The ECB kept its deposit rate at minus 0.3 percent and the main refinancing rate at 0.05 percent. Emphasizing the central bank's commitment to its ultra-loose policy settings, Draghi began his statement by declaring that interest rates will "remain at present or lower levels for an extended period of time."
Still, the president said policy makers "didn't want to discuss today the specifics of the instruments" that might be used, and that the ECB's technical committees have been instructed to examine options.
A chief concern for policy makers is that slumping oil and international financial-market turmoil risk feeding through into inflation expectations. Draghi said the ECB uses a variety of expectation gauges, that they've all declined, and that the correlation with oil prices has increased.

Brent crude has dropped almost 40 percent since the ECB's Dec. 3 meeting, when policy makers cut the deposit rate and extended their bond-buying program until at least March 2017. Euro-area inflation was 0.2 percent last month, still far below the central bank's goal of just under 2 percent, and core inflation excluding energy and other volatile items was 0.9 percent.
"We have to take seriously that low commodity prices may actually have second-round effects that we definitely want to take action against," Draghi said. "We have to be vigilant about that."
Further clues on the inflation outlook will come on Friday when the ECB is scheduled to publish its quarterly Survey of Professional Forecasters. The central bank will update its own economic projections in March and will include its first prognosis for 2018.
The ECB chief noted the impact of China's economic re-balancing, saying it is "contributing to demand-side" weakness in oil prices.
Bad Loans
The nation is going through "massive transitions," International Monetary Fund Managing Director Christine Lagarde told a panel at the World Economic Forum on Thursday in Davos, Switzerland. More communication on the balance of payments and the exchange rate "would serve that transition better," she said.
Draghi signaled the ECB is ready to expand its quantitative-easing program, including overcoming any liquidity constraints, saying that for any instrument chosen, "we want to be absolutely confident that there are no technical limits to the size of its deployment."
He said the return of inflation to target is more important than the impact of ultra-low rates on bank profitability. He also addressed concerns that the ECB is stepping up its pressure on lenders to urgently deal with bad loans, specifically in Italy. Bank shares have tumbled since the Single Supervisory Mechanism said this month that it's seeking more information about non-performing loans at the region's banks. An ECB task force is reviewing institutions with high levels of NPLs and will propose follow-up actions.
"There's nothing new here," Draghi said. "The Single Supervisory Mechanism is fully aware that to deal effectively with the NPLs it takes years."