Draghi's Groundhog Day Heralds Seven Weeks of ECB Market Dialog
by , , and
ECB president promises no surrender on inflation goal

Challenge is to avoid repeat of Dec. 3 investor disappointment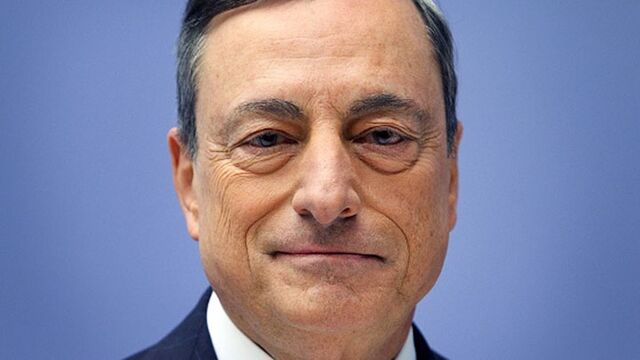 Once again, Mario Draghi has given himself a month and a half to convince investors he'll do what's needed to reignite consumer prices. This time he may hone the message more.
The European Central Bank president's hint that policy makers will bolster stimulus on March 10 raises the prospect of the Governing Council delivering another expansion to its 1.5 trillion-euro ($1.6 trillion) bond-buying program, including potentially taking it into new asset classes. Emphasizing the ECB's ambition to reporters on Thursday, Draghi said that there are "no limits" to how far officials will go to safeguard their inflation goal.
"It's a bit like Groundhog Day," said Carsten Brzeski, chief economist at ING-Diba AG in Frankfurt, reminiscing about the 1993 Bill Murray comedy. "The only question is, will he fulfill the dreams of markets this time around, or will he disappoint again?"
Draghi's comments herald seven weeks of expectation management as officials hope to better guide some investors stung by the result of the last meeting of 2015, when fresh stimulus fell short of predictions stoked at the previous decision. While the president didn't elaborate on how he plans to better explain things this time round, he also didn't exclude that officials had a role in an outcome that sent bond yields and the euro surging.
"Communication is a two-way affair," Draghi said. "It's very hard to put the blame of some disappointment on one side only."
The euro was set for its biggest weekly drop this year as traders braced for more stimulus measures. The currency traded at $1.0841 at 7:45 a.m. Frankfurt time and is down about 0.7 percent this week.
His challenge has become tougher. With an inflation rate that hasn't been near the goal of just under 2 percent in three years, and China's economic slowdown increasingly dragging on global trade and disrupting markets, the 25-member Governing Council risks being seen as too slow and cumbersome.

"They seem to be continuously behind the curve," said Nick Kounis, head of macro research at ABN Amro Bank NV in Amsterdam. While officials mull their next move, "markets start to price in actions and by the time we get to March, it really takes quite a lot for the ECB to get in front of expectations."
At Thursday's press conference in Frankfurt, after the Governing Council kept interest rates at record lows, Draghi said that measures announced at the Dec. 3 meeting were "entirely appropriate based on the circumstances prevailing at that time" but that conditions had since changed.
"In substance, I think the Governing Council is open to use all of the necessary instruments to cope with the situation, which is materially different from what it was," he said.
Draghi referred more than once to comments he made in New York a day after that decision when he pushed back against the market reaction. He also pointed to the fact that new macroeconomic projections will be published after the March meeting, including the first prognosis for 2018.
Forecast Revisions
"This is classic Draghi-speak," said Anatoli Annenkov, senior economist at Societe Generale SA in London. "He's reacting to the changed circumstances, but we still need to wait for the new forecasts and the council to come together. I'm not sure that means more or less action, and the markets will also need to learn from the experience in December."
Economists at JPMorgan Chase & Co. and Royal Bank of Scotland Group Plc changed their forecasts for easing to March from June following the Thursday's press conference. Barclays Plc Chief European Economist Philippe Gudin wrote in a note that "the new package that we predicted for June could be presented in March," depending on developments.
Draghi said the Governing Council didn't want to discuss any specific instrument and that the ECB's technical committees would study options. However, he did say that the central bank wants to be "absolutely confident that there are no technical limits to the size of its deployment."
That raises the question of whether the ECB is willing to go down the same path as the Bank of Japan by adding new asset classes to its QE program. As long ago as 2002, the BOJ was buying equities. The ECB's current program purchases government and agency debt, covered bonds and asset-backed securities, and policy makers agreed last month to extend that to the regional debt of euro-area member states.
Draghi, who is due to speak at the World Economic Forum in Davos on Friday, left all options open, saying that policy makers have "the power, the willingness, the determination to act" and that they were unanimous on that point.
"The view of the Governing Council is that we should absolutely reject any suggestion that we may do less than what's necessary," he said. "We are doing whatever is necessary to comply with our mandate, and we are not surrendering."
Before it's here, it's on the Bloomberg Terminal.
LEARN MORE