Decision on Heathrow Runway May Be Delayed by EU Membership Vote
by and
A referendum this year would dominate agenda, McLoughlin says

Aim is still to reach verdict on airport expansion in 2015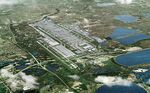 U.K. Transport Secretary Patrick McLoughlin raised the possibility of further delays to a decision on expanding London's Heathrow airport, as the government prioritizes a vote on Britain's membership of the European Union.
McLoughlin said Thursday on LBC radio that he still hopes that a verdict on whether to add a third landing strip at Heathrow or a second at the rival Gatwick hub can be reached "later this year," though a referendum on quitting the political bloc would inevitably take priority. Foreign Secretary Philip Hammond said Wednesday that June "is certainly a possible date" for a vote.
The government last month delayed a decision on airport expansion until after London's mayoral election in May, having already side-stepped the issue three years earlier by appointing a state committee to explore options. Its chairman Howard Davies last year recommended a new runway at Heathrow, Europe's busiest hub, which wants to lift passenger numbers above 135 million.
McLoughlin said on LBC that all three plans shortlisted by the Davies Commission before its final verdict -- two competing runway plans at Heathrow and one at Gatwick -- "are under consideration at the moment." Air quality is among factors being assessed, he said.
Parliament's Environmental Audit Committee said last month that Heathrow shouldn't be expanded without a ban on night flights, a commitment to covering ground-transport improvements, and proof that the airport will be quieter and operate within accepted air-pollution and carbon dioxide limits.
Before it's here, it's on the Bloomberg Terminal.
LEARN MORE