Dalio Unites With Cohn in Davos Urging Restraint on Yellen
by , , and
`Wait for the whites of inflation,' Bridgewater founder says

Citigroup's Buiter sees China leading world into recession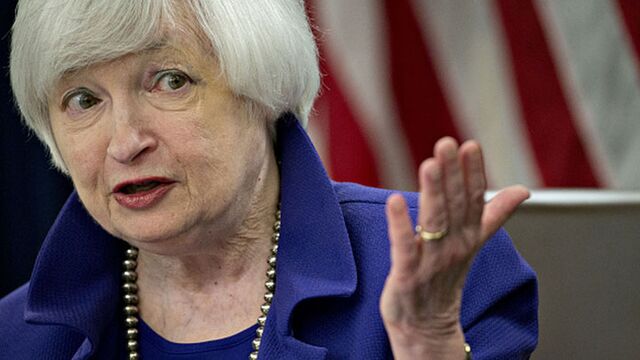 The Federal Reserve's December interest-rate increase will be the last one for a while if financiers at Davos have their way.
With global stocks on the verge of a bear market, China weakening and oil at the lowest in more than a decade, Ray Dalio of Bridgewater Associates and Goldman Sachs Group Inc.'s Gary Cohn urged Fed Chair Janet Yellen to tread very carefully.
"The world that they're getting feedback about is a deflating world with asset prices coming down and I hope that they'll remain flexible in their thinking of monetary policy," Dalio, founder of the hedge fund, said on a Bloomberg panel at the World Economic Forum's annual meeting in the Swiss resort. "They have to wait for the whites of inflation."
Cohn's Caution
Cohn, the Goldman Sachs president, said a lack of wage pressure and increased global competition meant that "until you see the reality of this inflation in the system, I'm not sure assuming it's coming is a good assumption."
The financial-market turmoil came within weeks of the Fed's first interest-rate increase in nine years. Doubts are rising about how soon policy makers will follow through with more and some in Davos questioned whether it erred in hiking prematurely.
"From a dual-mandate perspective, it was too soon," said Willem Buiter, chief economist at Citigroup Inc., referring to the Fed's twin goals of maximum employment and stable inflation. "From a financial-stability perspective she should have moved earlier."
QE Resumption
Dalio, who has said he expects the Fed's next major move to be a resumption of quantitative easing, said Yellen and colleagues are preoccupied with the business cycle rather than the U.S. economy's debt burden.
"Be hesitant," he said. "There's no doubt the Fed can be effective in tightening monetary policy so if they're a little bit late and then they tighten monetary policy I don't think that's a problem. But they're not that effective in easing monetary policy."
Harvard University Professor Kenneth Rogoff said while it was "reasonable to hike" in December, his "own prejudice would have been not to."
"It was a knife-edge call," he said in Davos. "Anybody who looks through the rear-view mirror, and says of course they shouldn't have, I hope those people shorted the stock market."
He predicted further rate increases this year given the U.S. economy is still improving.
The market rout and China's weakness have nevertheless raised concerns in Davos that the world may be set for a further period of slow growth.
"The question will be where is the locomotive?" said Dalio. "There's not a county in the world that should not ease its monetary policies, maybe some should stay put, the U.K."
Buiter said his "central scenario" is now that China will this year lead the world into recession, which he defines as expansion of less than 2 percent.
"Monetary policy is lower for longer, but increasingly ineffective," he said.
Before it's here, it's on the Bloomberg Terminal.
LEARN MORE