Draghi Biting the Bullet Stems Euro That Only Wanted to Rise
by , , and
Shared currency reverses 2016 advance on ECB chief's comments

Risk reversals, U.S.-German yield gap pointed to gains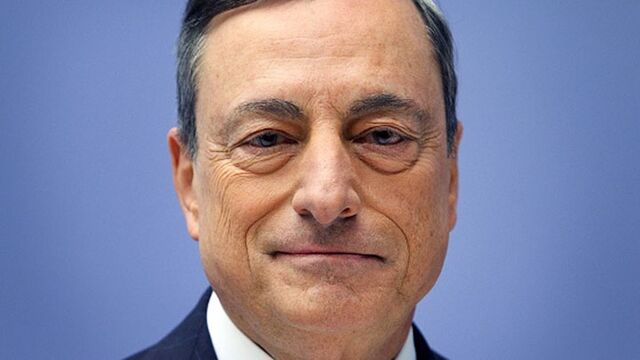 Mario Draghi came out strongly in favor of more monetary stimulus, stemming the nascent rally in the euro.
Apart from the yen, Europe's shared currency was beating every major counterpart this year as investors sought havens from the global turmoil that's sent at least 16 exchange rates to record lows. Worse still, a narrowing gap between European and U.S. interest rates, plus a growing gulf in the euro versus its effective exchange rate, indicated further gains were in the cards.

So, after disappointing investors in December with a narrower-than-forecast stimulus boost, the European Central Bank president insisted after the first meeting of 2016 that there are no limits to how officials can act within their mandate. Though he didn't actually announce any new measures, the euro wiped out its modest year-to-date gain and fell the most in two weeks.
"He's trying to restore the credibility of the ECB, which I don't think has been damaged in a serious way -- it's just been dented a bit," said Paresh Upadhyaya, director of currency strategy in Boston at Pioneer Investments, which oversees about $243 billion. "For those long-term euro bears, this is very heartening."
While the ECB insists it doesn't target the exchange rate, like the BOJ it needs a weak currency to achieve its goal of kick-starting lackluster growth and inflation. Speaking in Frankfurt after officials kept key interest rates unchanged, Draghi said the central bank may re-assess its policy stance in March amid a deteriorating economic outlook and turmoil in global markets.
'Stand By'
The euro dropped 0.4 percent to $1.0844 as of 5:22 p.m. London time, leaving it down 0.2 percent since the start of the year. The yen has strengthened more than 2 percent in 2016 to 117.56 per dollar.
"The ECB and the BOJ are not going to stand by and watch their currencies strengthen," Lee Ferridge, the Boston-based head of macro strategy for North America at State Street Global Markets, said before the ECB meeting. "If euro-dollar went back toward $1.15, then you would see some comments coming at least from Draghi and maybe more talk of stimulus." State Street has about $2.2 trillion under management.
Draghi's not out of the woods yet. Ferridge said the euro stands to get a boost versus the dollar from the shrinking difference between yields on German and U.S. sovereign debt.
Rally Risk
Before Draghi spoke, the cost of a euro-dollar call option exceeded that for a put for the first time since 2013, according to one-month risk-reversals data compiled by Bloomberg. And the shared currency's effective exchange rate has diverged from the euro's rate versus the dollar.
"We are at a level in the effective exchange rate where the ECB intervened verbally in the past," said Valentin Marinov, head of Group-of-10 foreign-exchange research at Credit Agricole SA's corporate and investment-banking unit in London.
Until Thursday's drop, the euro had -- like the yen -- been rallying this year. The MSCI All-Country World Index declined into a bear market and crude oil prices fell to a 12-year low, while in the past two days Russia's ruble and Mexico's peso tumbled to records.
That's raising concern that the outlook for global economic growth is worsening and the Federal Reserve will have to reduce the amount of policy tightening it delivers this year. Both the euro area and Japan have current-account surpluses, making them attractive venues for capital during times of risk-off sentiment.
Kuroda's Pledge
BOJ Governor Haruhiko Kuroda said last week officials won't hesitate to add stimulus if necessary. The central bank announces its next policy decision on Jan. 29.
Hedge funds and other large speculators were net long the yen for the first time in three years in the week through Jan. 5, and extended those positions last week, Commodity Futures Trading Commission data show.
"Markets are split between general risk aversion, and euro being a safe haven, given the source of the shock is China and emerging markets, and prospect of further ECB easing," said Salman Ahmed, chief strategist at Lombard Odier Investment Managers in London. "Euro dynamics will depend on the size and nature of any ECB easing vis-a-vis the Fed."
Before it's here, it's on the Bloomberg Terminal.
LEARN MORE