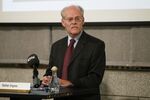 If Mervyn King has the last word, the Riksbank may have won its long-fought battle to revive inflation.
Price growth is seen at 1.9 percent in five years, just shy of the Swedish central bank's 2 percent target, according to a survey published Wednesday of traders and investors by TNS Prospera. For a bank that hasn't been anywhere near its target since 2011, that's a pretty big deal.
King, a former Bank of England governor, on Tuesday proposed that the bank should be allowed more time than the current two years to get inflation back to its 2 percent target. By those calculations, Sweden's travails -- which have so far entailed negative rates, quantitative easing and the threat of currency interventions -- may have come to an end.



While two of Sweden's four largest banks still believe in a rate cut at the Riksbank's next policy meeting in February, Nordea Bank said King's review has decreased the likelihood for more monetary easing.
"Given the strong Swedish economy and the elevated credit growth, the review's conclusions point to a less accommodating monetary policy stance and provide arguments for the Riksbank not to press harder on the accelerator," Torbjoern Isaksson, Nordea chief analyst, wrote in a note. "The message from the review may affect the executive board already in the near-term. This is a risk to our call for a rate cut at the February meeting."
In his review, which parliament commissioned, King also proposed that the bank change the definition of its target to strip out the effects of changed mortgage costs.

By that calculation, inflation was an annual 0.9 percent last month -- instead of headline inflation of just 0.1 percent.

Added flexibility may also mean the re-introduction of a tolerance band of one percentage point around the target,  which several board members have backed. 
It looks like inflation may already be within reach.