China's State Grid to Boost Spending Plan 28% to $350 Billion
by
Company plans to invest amount over five-year period to 2020

Treat possible copper impact with caution, says Citi analyst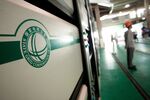 State Grid Corp. of China, the world's biggest utility and copper consumer, plans to invest 28 percent more over the next five years from the previous period to expand its power-transmission network.
The company will spend 2.3 trillion yuan ($350 billion) between 2016 and 2020, surpassing the 1.8 trillion yuan invested in the previous five-year period, Chairman Liu Zhenya said at a press conference in Hong Kong Thursday.
Spending on electricity infrastructure is crucial for copper demand in China, accounting for about 40 percent of consumption in the world's biggest user of the metal and helping balance the slump in demand from other sectors such as air conditioners and cars. The metal is used for cabling in the power distribution network.
A 17 percent increase in State Grid investment in 2015 helped offset "disastrous" copper demand from other users, analysts from Barclays Plc said in a note dated Jan. 18. Copper prices plunged 26 percent last year as demand retreated due to China's slowing economy.
This year, the company will reduce spending by 3 percent from 2015 as some projects begun in the new cycle don't need big investment in their earlier stages, Liu said. State Grid will spend 439 billion yuan this year from about 452 billion yuan in 2015, according to Indaa.com.cn, the company's official news website.
'Growth Mode'
"Lower spending in 2016 may set up a spike for 2017 when our multi-year projects enter a stage that requires purchasing more expensive equipment," Liu said. "Overall China's power market is still in the growth mode and we need to build a better network to meet the needs of power transmission."
The impact of State Grid's plans on commodities such as copper is viewed with caution by some. The market "is discounting any discussion and talk out of the State Grid," Ivan Szpakowski, senior commodities strategist at Citigroup Inc., said in an interview in Hong Kong, citing differences between planned and actual spending in recent years.
State Grid proposes building a global energy network that may cost $50 trillion to develop by 2050, according to Liu. He called the plan the "global energy Internet" that could transmit electricity from country to country and continent to continent.
Wind Rich
In a feasibility study conducted by State Grid, China's wind-power rich Xinjiang province can send electricity to Germany at $0.12 per unit, of which 8 cents is the cost of power and 4 cents transmission fees through a 6,000-kilometer ultra-high-voltage transmission network. The power would be competitive in Germany where per-unit electricity costs about $0.25, Liu said.
State Grid also plans to build 20,000 car-charging stations across the country in the next five years to support electric-vehicle adoption, he said.
State Grid will continue to push for expansion overseas, trying to buy assets that could provide potential for strategic growth in targeted markets, Liu said, without giving details.
The company's joint bid with Macquarie Group Ltd.'s Infrastructure & Real Assets Fund for the New South Wales electricity transmission company, TransGrid, failed in November.
Before it's here, it's on the Bloomberg Terminal.
LEARN MORE