China Is on a Quest to Develop New Billion Dollar Drugs
by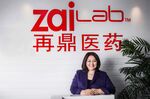 It's been more than a decade since Samantha Du returned to China to build one of its first biotechnology companies focused on developing drugs for a global market. Back then, she trained scientists, had perplexing discussions with regulators new to the field and worked hard to persuade people it was worthwhile to back Chinese science.
Times have changed. Now, Du says she has a "cherry pick" of talented and experienced scientists. She's advising China's government on accelerating approvals of complex pharmaceutical products, and the world's most prolific investors are actively hunting promising Chinese biotechnology companies to pump money into (including hers).
Du is among an emerging group of ambitious entrepreneurs and scientists seeking to make their mark by producing China's first blockbuster innovative drugs -- and taking them around the world. They're attempting to reshape the Chinese biotechnology industry, which is also getting a boost from government efforts to drive innovation through incentives like biotech zones and preferential regulations for locally developed drugs. China's pharmaceutical companies have traditionally focused on making cheap, generic medicines, and so far they've had limited success in creating novel drugs.
"The Chinese people deserve better medicines," said Du. "China is transitioning from a developing to developed country and a huge part of that process hinges on ramping up progress in its health-care sector."
Zai Lab, the drug developer she started in 2014, this month announced it had secured $100 million in Series B funding from a group of backers including Advantech Capital, OrbiMed Asia as well as existing investors Sequoia Capital China, TF Capital and Qiming Ventures. That puts the total funding Zai raised to about $130 million, and she says the company will explore a public listing at a later date.
National Champion
Newly minted Chinese entrepreneurs like Du face a string of challenges in fulfilling their ambitions in the biotechnology industry. Their companies are little known outside their home country and they face an uphill task gaining recognition internationally. They also face a long wait to see their drugs come to market. Worldwide only a tiny fraction of experimental drugs succeed in winning regulatory approval.
In China, foreign drugmakers have for years complained about delays in receiving approvals. While the regulatory landscape is improving, local start-ups are likely to face similar troubles as regulators struggle to keep up with the industry's growth.
Du is one of the few senior women in the Chinese biotechnology sector and her firm offers a window into the emerging industry. Born in China, she received her Ph.D. in biochemistry from the University of Cincinnati. She was a senior scientist at Pfizer Inc. in the U.S. for a number of years, involved in the development of drugs that went on to be launched globally. Now, she says, her goal is to build a national biotech champion that produces innovative drugs. The strategy is to grow the company quickly to capture the momentum in the sector.
Zai has licensed experimental medicines from big pharmaceutical companies to populate its immediate pipeline, including a potential treatment for lung cancer from France's Sanofi and a liver drug candidate from Bristol-Myers Squibb. Many pharmaceutical companies worldwide are choosing to license out drug candidates that have emerged in their labs but don't directly fit into the therapeutic areas they are focused on.
Zai has also established its own early stage drug discovery team that is for now focused on immuno-oncology. It has built academic partnerships including one with Tsinghua University, and is building its own manufacturing facility so it can begin production as approvals come in.
Du says that Chinese companies like hers will benefit from an improving ecosystem for the industry in China. As the quality of contract research organizations and other related businesses improve in China, entrepreneurs may be able to "build a multi-billion dollar company even without hiring 10,000 people," she said.
Investor Interest
Until about 15 years ago, China's biotechnology research was largely related to generic manufacturing or to university laboratories. But in recent years the government has highlighted the industry in its five-year economic plans. That combined with so-called 'sea turtle scientists' -- Chinese researchers who have worked in the West but returned home to build companies -- has spawned more start-ups researching everything from diabetes to cancer treatments.
While their drugs are still at early stages, they're hoping to capitalize on pent-up demand from Chinese patients and also get a foothold in a country that is building its research and development capabilities. China is on track to become the world's top R&D spender by around 2019 as budgets in the European Union, Japan and the U.S. come under pressure, the Organization for Economic Co-operation and Development estimated at the end of 2014.
Du has had a front row seat to the changes in investor sentiment on the sector. When she moved back to China from the U.S. more than a decade ago, she was recruited to help run a drug company backed by Li Ka-Shing, one of Asia's richest men. While she was there the company went public in London. She went on to become a managing director at Sequoia Capital China responsible for the fund's health-care investments, and there she helped oversee the listing of a biologic manufacturing company in Taiwan.
China used to comprise 2 to 3 percent of the global drug sector but it is now projected to become among the world's largest markets, she said. "But innovation hasn't caught up fast enough, while lots of global drugs have not gotten into China in a timely fashion -- we want to be the bridge that makes it happen."
Before it's here, it's on the Bloomberg Terminal.
LEARN MORE