China Economic Transition in Sync With Australia, Morrison Says
by and
Treasurer dismisses speculation of early federal election

Lower currency helping services exports, particularly tourism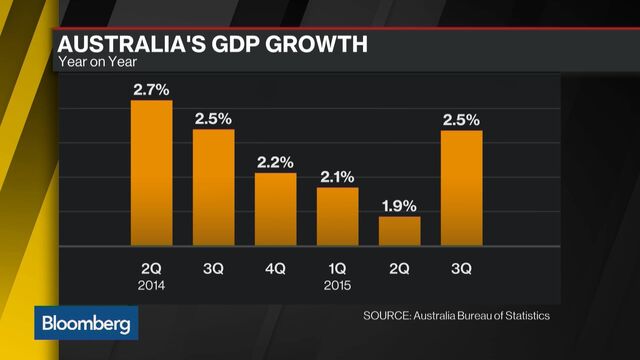 Australia will withstand China's stock market turmoil as the two nations are both going through comparable transitions in their economies that are mutually beneficial, Treasurer Scott Morrison said.
"We're seeing a very strong growth in our services sector not unlike what they're seeing in China," Morrison said in an interview with Bloomberg Television on Thursday. "So there is somewhat of a synchronization taking place between the Australian economy and the Chinese economy. New parts of our economy are participating in the growth of new areas of growth in the Chinese economy."
Chinese stocks are extending their tumble in 2016 as the weakest economic growth in a quarter century and a depreciating yuan fuels capital outflows, exacerbating a lack of demand for Australian resources such as iron ore that's seen global commodity prices plunge. As the world's 12th-largest economy transitions away from a mining boom, Morrison is attempting to stoke support for fledgling services industries.
"The Australian economy is not one-dimensional," Morrison said. "Our economy in the future and even now will be less dependent on one market, one commodity, one part of what we do. It is a much more diversified economy."
A lower Australian dollar, which is down 15 percent since the start of 2015, has boosted the nation's export industries, including tourism. Morrison said exports were also supported by Australia's signing of free-trade agreements with its three-largest trading partners in China, Japan and South Korea in the past two years.
"With our export industries feeding into these new trade agreements that we have, it also makes us far more competitive," he said.
The treasurer also dismissed media speculation that Prime Minister Malcolm Turnbull may capitalize on his government's surge in poll ratings since taking the top job from predecessor Tony Abbott by going to an early election in the first half of 2016. The volatility in world markets make an early ballot, before its due in September or October, unfeasible, he indicated.
"The prime minister has said that we'll be going full term and that's what we'll be doing," Morrison said. "The reason for that is, right now, certainly there is volatility."
Before it's here, it's on the Bloomberg Terminal.
LEARN MORE