Cheap Oil Means 1,500 Middle East Bankers Looking for Jobs
by
U.A.E. lenders making job cuts as low oil tightens liquidity

Many expatriate bankers may leave Gulf region amid layoffs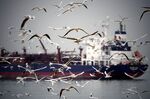 Bankers who have been dismissed in the United Arab Emirates may struggle to find work as the region grapples with the impact of oil below $30.
Banks in the country may have recently cut as many as 1,500 jobs, according to financial recruiters and Bloomberg calculations. While dismissals are taking place at international companies such as Standard Chartered Plc and HSBC Holdings Plc, local lenders, once seen as safe havens for seasoned expatriate bankers, have also dismissed workers. In some cases, they've explicitly said that expatriates will bear the brunt of the job cuts.
"Low oil prices have run through all industries in the region and hit the financial sector hard," Trefor Murphy, managing director of recruiter Morgan McKinley in the Middle East and North Africa, said Wednesday in a telephone interview. "It's now an extremely challenged market. You'll see an exodus of bankers."
The oil slump is draining billions of dollars from the banking system, stock markets are volatile, investment is slowing and global banks are firing workers to boost returns. After expanding teams, local lenders are now making cuts as the plunge in oil tightens liquidity and defaults rise. The lay offs are also happening globally: Barclays Plc. plans to make about a quarter of 1,000 planned job cuts in Asia, according to people familiar, while Morgan Stanley is cutting 1,200 workers worldwide, a person briefed on the matter said.
In recent years, some expatriate bankers started second careers in the U.A.E. as lenders based in London, New York and Zurich scaled back after the financial crisis. First Gulf Bank PJSC, the third-largest lender by assets in the U.A.E., hired Simon Penney from Royal Bank of Scotland Group Plc to head its wholesale banking unit and Steve Perry from Standard Chartered to run its debt market division in 2013.
Active Recruiters
As recently as March, banks and financial institutions were increasing hiring at the fastest pace among Middle East employers as the region's governments planned infrastructure projects, recruiters Monster Worldwide Inc. said at the time.
Now, with oil trading at $28 a barrel and many of those projects on hold, the situation is quickly changing. Financial hiring ranks number sixth or seventh among industries, Sanjay Modi, managing director of Monster.com for India, Middle East, Southeast Asia and Hong Kong, said by telephone.
HSBC laid off about 150 employees at its retail, commercial banking operations in the U.A.E., a person with knowledge of the matter said in November. Standard Chartered also cut about 100 positions at the end of the year, the recruiters said, asking not to be identified because the matter is private. BNP Paribas SA was considering more than 100 job cuts in October, two people with knowledge of the matter said at the time.
Among the local lenders, National Bank of Ras Al-Khaimah PSC said Jan. 20 it was cutting 250 expatriate positions after headcount had grown by 600. First Gulf Bank cut close to 100 jobs, Reuters reported in November.
Sunshine, Bonuses
National Bank of Abu Dhabi plans to focus on generating revenue from international operations, capital markets and its domestic mortgage business instead of conventional lending this year, Chief Executive Officer Alex Thursby this week in an interview.
Another option for those leaving the large banks has been to set up independent advisory companies after leaving jobs at places like Deutsche Bank AG and JPMorgan & Chase Co.. For example, Nadeem Masud, Deutsche Bank's chief country officer for the U.A.E., said earlier this month he left to join a Middle East-focused private equity and advisory firm.
Now, with only so many deals to go around, some boutiques may not survive, according to KPMG. Others are exploring new business ventures within the country.
While many bankers will want to remain in the U.A.E., lured by year-round sunshine, tax-free salaries and higher bonuses than their counterparts in Europe and the U.S., expatriates have limited time to find work before their work permits expire.
"We will see many candidates leaving the region as the market here is not sophisticated to the extent of understanding mid-career changes," said Adam Man-Cheung, operating director of finance and financial services at recruiter Michael Page International Plc in Dubai. "Hiring will be more strategic. Banks want to wait and watch for the time being."
Before it's here, it's on the Bloomberg Terminal.
LEARN MORE